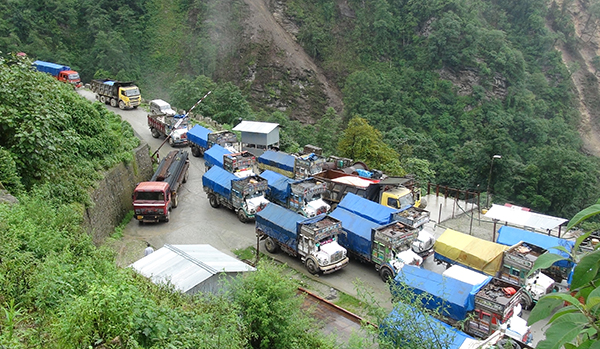 About 50 truckers have blocked the road to Mangdechhu Hydropower Project Authority's dam construction area in Trongsa. They are demanding the officials of Jaiprakash Associates Limited, the contractor building the dam, to allow them to unload the cement, as soon as possible.
The truckers are not allowing a single vehicle through to and from the project's dam construction site.
Trucks, ferrying cement from Dungsam Cement Corporation and Phuentshogling, started arriving about five days ago. However, they have not been allowed to unload the cement after a landslide at the dam's pit.
The truckers say they are incurring a loss of about Nu 4,000 a day for being held up. They also say they do not have place to eat and sleep.
Jaiprakash's officials did not want to comment. But, BBS learnt that the problem is expected to be solved in two-three days if the weather favours. We also learnt that Jaiprakash Associates had written to Dungsam Cement Corporation to reduce the cement supply from 300 metric tons a day to 40 metric tons.
Dungsam Cement is said to have reduced the supply to  80 metric tons a day.
MHPA's Dam Chief, Karma Chophel said they never instructed Jaiprakash Associates to stop the work. He said the contractor stopped the work to avoid the risks from falling boulders from the landslide at the dam site.
Karma Chophel also said Jaiprakash construction is steel-netting the area to arrest the falling boulders.