PM meets Ambassadors of Canada, Vietnam, and Pakistan
Jun 19, 2015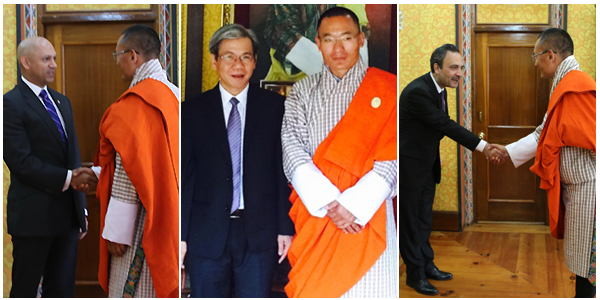 The new Ambassadors of Canada, Vietnam, and Pakistan paid a courtesy call on Lyonchhen Tshering Tobgay at the Gyalyong Tshogkhang, today.
Meeting Ambassador Nadir Patel of Canada, Lyonchhen expressed his deep gratitude for Canada's significant contribution in uplifting the standards of education in Bhutan ever since Father William Mackey's arrival in Bhutan.
Ambassador Patel and Lyonchhen also talked about associating on avenues of economic and social progress, trade and investment, quality education and capacity building.
A release from the Prime Minister's Office says, in the wake of inevitable natural calamities, the meeting also saw discussion on the importance of disaster readiness, management and secure-response mechanisms.
During the meeting with Ambassador Ton Sinh Thanh of Vietnam, Lyonchhen conveyed his appreciation on Vietnam's tremendous socio-economic success. He said that Bhutan could draw a lot of inspiration from Vietnam's achievements. Ambassador Thanh expressed his interest in drawing lessons from Bhutan's Gross National Happiness and incorporating its principles in their economic development strategies.
Later in the afternoon, Ambassador Sardar Shuja Alam of Pakistan also called on Lyonchhen. They discussed history, democracy, and SAARC, among others.