Dairy groups struggling to stay afloat
Pema Namgay, Kanglung

Mar 4, 2015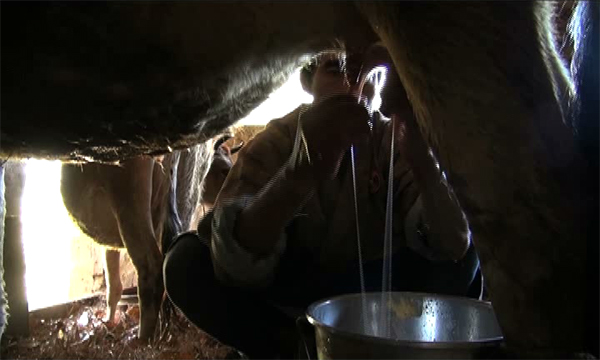 Despite the success of some dairy groups in Trashigang, some of them are struggling to survive. Domkhar-Mangthung Om Detshen, a dairy group under Kanglung Gewog is one of them.
Samdrup, from Tragom village under Kanglung gewog is one of the members of Domkhar-Mangthung Om Detshen, a famer's dairy group in Kanglung. The group has 40 members. Samdrup owns around eight crossbreed cattle and sells milk to the group. In a month he used to earn around Nu 3,000 to Nu 8,000 through the sale of milk.
"The price of milk we get from the group is lower than the price we get from the market. But if we sell on our own, we cannot save the money," said Samdrup. He said by selling milk to the group, they get cash in bulk at the end of the month, which is helpful.
But Samdrup's monthly income stopped suddenly after the group stopped collecting milk from its members nearly two months ago. Since its formation in 2009, the group has been facing numerous problems, starting from keeping the members together to milk collection.
"The group's biggest challenge is collecting milk from the members. The members are scattered all over the place. The other problem is we don't have good-breed cows," said the Dairy Group's Secretary, Sonam Tshering.
He said the government did help them get cows from Pema Gatshel in the past but they are not good breed.
A milk vendor, Dechen Wangdi said the members are not cooperating. "Sometimes they bring the previous day's milk. The government has provided things like Milk Cans, freezers and churners but there is no milk."
The group is also facing challenges in marketing their milk and milk products due to stiff competition from other dairy groups.
In 2013, the group members tried their hand in producing Chugo or dried cheese from milk. But it was unsuccessful.
The Gewog Livestock Officer, Sangay Rinchen said the main reason why the initiative failed was because of problems related to collection of milk. "The other reason is due to lack of market for dried cheese and there were no buyers because it was costly."
At the beginning of this month, members came together to discuss their group's future prospect. While agreeing to keep the group functioning, members also decided to take loans to buy jersey cows to improve milk production. None of the members own Jersey cows.
For now, Samdrup markets his dairy products on his own. But like other members, Samdrup is hopeful of the group's success in the future. But lack of cooperation and trust among the group members and management is the biggest challenge for the group.