There is no excess liquidity: government
Jan 28, 2015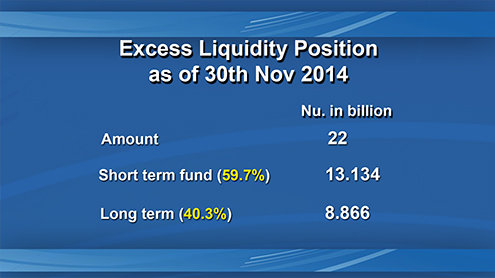 While local banks, economists and the opposition believe there is excess money lying idle in the financial system, the government thinks otherwise.
A major chunk of money in the banks was short-term deposits which are parked temporarily and not available for lending, according to finance minister, Namgay Dorji.
Short-term deposits constitute about 59 percent of total deposits, and being short term in nature, banks would not be able to make use of it by lending, reveals the figures with the finance ministry.
The remaining, 41 percent, are long-term deposits, which according to the government was the actual liquidity available for lending.
In absolute terms, short-term deposit amounts to Nu.13 B and long term, Nu.8.8 B.
Lyonpo also refuted the Opposition's allegation that the Economic Stimulus Plan has failed. "It has rather helped the economy by injecting liquidity and making money available for lending."
However, whether there are takers for this money within the economy is an entirely different story, he said.  "To create demand for loans, the economy has to be first straightened. The economy today is in its lowest slump and hence economic activity has decreased, which has subdued demand for loans."
The finance minister says the government needs more time to help the economy grow. "Although the government has been in the office for a little more than one and half years, it is not enough, we need more time"
Lyonpo said ESP is one option to help the economy grow but, the government must also work on a lot of other policies, simultaneously.
The minister said the government would be meeting with commercial banks and the central bank to discuss the issue and if need be, look at the probability of mopping excess money from the financial system.