Tillers reach eastern dzongkhags as part of government's promise
Jan 26, 2015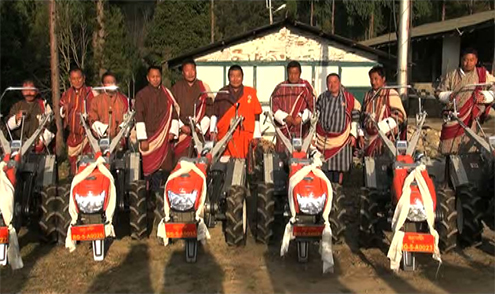 The government has started on its initiative to distribute power tillers to each chiwogs starting with the six eastern districts. During the first phase, 70 power tillers are being distributed to each gewogs.
This comes as a part of the package the present government promised in its manifesto.
The preference is first being given to the eastern region since the number of power tillers are relatively lesser compared to the west.
So far 15 gewogs under Trashigang received power tillers each on Saturday last week.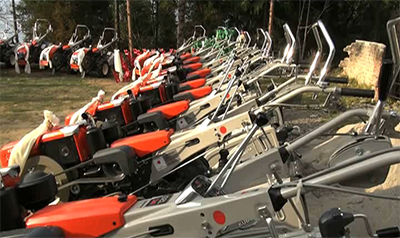 Agriculture Minister Yeshey Dorji said the initiative would not only enhance land utilisation and promote agriculture commercialization but also generate rural employment and income.
Lyonpo Yeshey Dorji said, today the government was able to provide only to the gewogs, but whenever it necessitates, the government will start providing to the chiwogs as well.
Some Chiwogs might even receive more than one power tiller, he said.
Lyonpo Yeshey Dorji also said in the next one to two years the ministry was planning to bring in around 2,000 power tillers through support from different agencies.
The Agriculture Machinery Centre will receive 239 power tillers at the end of February and by April and May, the centre will distribute it to the rest of the Gewogs in the country. In the next phase, the Ministry will distribute to the Chiwogs.
The Gewog extension officers will manage the power tillers and will be sent on hire to the farmers followed by guidelines of the hiring system.
Program director Karma Thinley said, hiring charges and procedures will be explained to the farmers, and the rates will be subsidized in a bid to encourage agriculture.
The rate today has been fixed at Nu 1,400 a day including charges to the operator, fuel and maintenance.
The power tillers were sourced through support from the Japanese Government under KR II grant. Eight Gewogs of Lhuentse and Trashi Yangtse and 17 Gewogs of Monggar have already received the power tillers. Later it will be distributed to Pema Gatshel and Samdrup Jongkhar.