His Holiness consecrates Wache Dzong
Jan 7, 2015
His Holiness the Je Khenpo consecrated the newly reconstructed Wache Dzong under Bjena Gewog in Wangdue Phodrang, today.
The Dzong was first built by the descendants of Sangdag Garton the son of Phajo Drugum Zhigpo in the 13thcentury.
The reconstruction works was carried out under the charge of Khenpo Dorji from Wache village in 2011. It is constructed at a cost of more than Nu.10 M. The main Nangten of the Lhakhang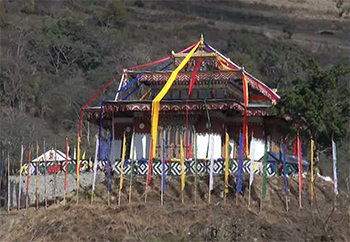 is Tempa, the statue of Buddha.
The Dzong is believed to be one of sacred monuments since many great masters including Kuenkhen Longchen Rabjam, Youndzin Ngai Wangchuk and Lama Drukpa Kuenly is said to have visited the place.
The National Council Chairperson Dr. Sonam Kinga, Health Minister, Tandin Wangchuk, senior government officials and people nearby attended the consecration ceremony.