An initiative club, Delivery 'K4', launched
Jan 4, 2015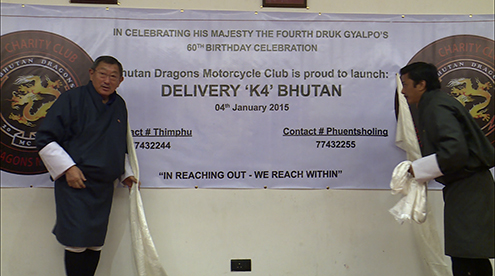 An initiative club set up by the Bhutan Dragons Motorcycle called Delivery'K4' Bhutan was launched in Thimphu, today. The initiative, the club said, is dedicated to His Majesty the Fourth Druk Gyalpo for his 60th Birth Anniversary.
Delivery'K4' Bhutan's sole aim is to collect all types of goods from the people of Thimphu and Phuentshogling to begin with.
The goods collected will then be sorted out and distributed to needy and under-privileged people, across country, during the club's various charity rides conducted, every year.
The members of the club said those willing to contribute any goods, ranging from clothes, furniture, toys, shoes, and household items among others who are willing to donate to the Club.
The initiative will be a continuous collection drive with no fixed time frame, they said.
The Bhutan Dragons Motorcycle Club is a charity club formed by a group of motor biker enthusiasts to spread the love of peace, compassion and friendship through biking. It also collects funds to help the needy and deprived people of country.
The club was formed on 2008.