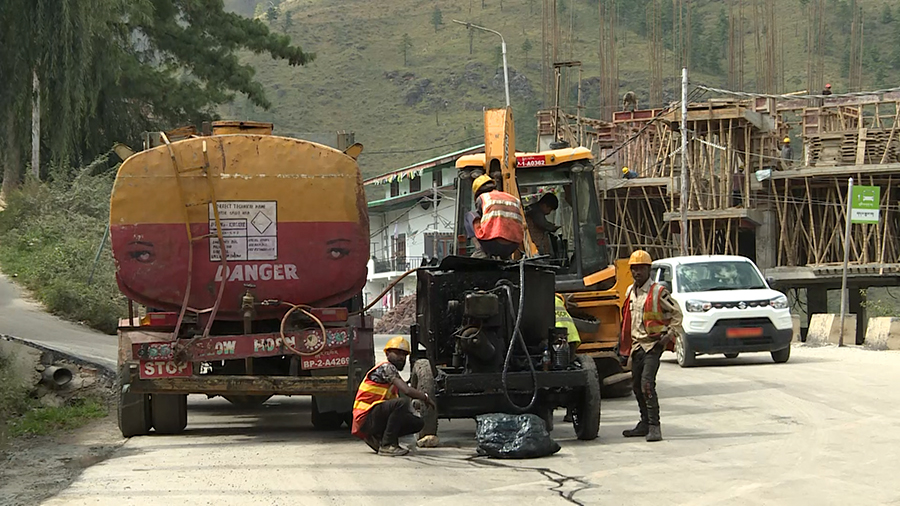 Travelling along the roads in the four Thromdes across the country is expected to soon become comfortable. The Ministry of Infrastructure and Transport started a project some six months ago to make Thromdes pothole-free. So far, the Gelephu Thromde has completed filling up the potholes while works are ongoing in Thimphu.
In Thimphu, as part of the project, the old Simtokha highway leading towards Welcome Gate at Babesa has been resurfaced. The road was in dire need of maintenance with many potholes prior to the onset of the project.
"I used to avoid commuting along the old highway due to the bad road conditions and preferred the Babesa highway. But now, due to the blacktopping and maintenance of the road, it is comfortable to drive," said Dorji Peldon, a resident.
Similarly, resurfacing work along the road between the National Referral Hospital and the fly-over bridge at Changzamtok has been completed.
The maintenance of the road near the new Kaja Throm or the old Centenary Farmers Market is also complete.
Currently, works are ongoing along the Babesa-Serbithang road.
According to the Ministry of Infrastructure and Transport, the project worth 60 million ngultrum is primarily focused on Thimphu where roads in most parts of the city are in need of maintenance.
Similarly, the Thimphu Thromde recently started repairing roads along the Dechencholing-Pangrizampa highway and the road between Simtokha and Chamgang.
"We repair roads especially, during the autumn and spring seasons. During the monsoon, it is difficult as the blacktop is washed away by the rain. During the repair, we do not block the roads. We keep one lane open for traffic and we ask the traffic division to let us know whenever there are important guests using the way so that the work is not causing any inconvenience to them," said Tshering Dorji, Chief of Road Division in Thimphu Thromde.
They added that there is no specific budget allocated for road maintenance within the Thimphu Thromde.
According to the thromde, to repair roads, they use funds from their annual maintenance budget and also seek from development partners.
Meanwhile, contractors of the project say that it is challenging to carry out maintenance works with vehicles plying every now and then.
"It has been almost a month since we started the work here. We are trying to do the work as fast as we can but due to large number of vehicles travelling along this road, it is hindering our progress. Out of eight hours, we are able to work for only five hours a day," said Pema Tenzin, a contractor.
Meanwhile, works to make roads pothole-free have yet to start in Phuentshogling and Samdrup Jongkhar thromdes.
According to officials, the project is expected to improve the overall road conditions and ensure road safety.
Deki Lhazom
Edited by Phub Gyem