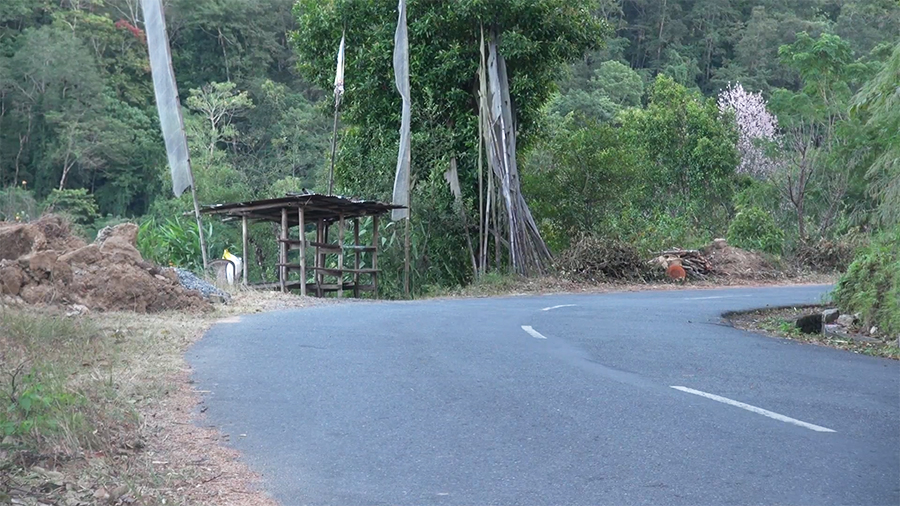 In the hope of a better market, the farmers in Tsirang usually sell their farm produce in temporary vegetable sheds along the Tsirang-Wangdue Phodrang Highway. Recently, their businesses have come to a halt, affecting the sale of their farm produce. This is because the Department of Surface Transport has asked the farmers to dismantle the vegetable sheds. The sheds were said to have been constructed violating the department's guidelines.
Selling vegetables and fruits was not an issue for Kelzang Lhamo in Tsholingkhar Gewog in Tsirang when she was selling her farm produce along the Tsirang-Wangdue Phodrang Highway. But this changed after she had to stop selling agricultural and livestock produce in September this year from her temporary vegetable shed located just below her house. Today, vegetables and fruits in her garden are ready for market but they still remain unsold.
Kelzang Lhamo said, "two officials from the Department of Surface Transport told me not to operate the business from my temporary vegetable shed. The officials told me to dismantle the structure. Since then I could not continue operating my business. The income from the sale of vegetables helped me meet educational expenses for my children and other household expenses."
The decision has also affected other farmers who are mostly from Tsholingkhar Gewog. They say, constructing improved vegetable sheds in accordance with the guidelines is costly. They are requesting financial support from the government to construct such sheds.
"It is very difficult to get vehicles and a place to reside when we have to take our vegetables to Thimphu. Selling vegetables along the highway not only benefits us but also vegetable growers and consumers," said Jigme Namgyal, a vegetable seller from Tsholingkhar.
"I don't cultivate vegetables much now. This is because it is very difficult to sell them even in Thimphu since farmers from other districts also bring them there for sale. Selling vegetables along the highway used to earn me a few hundred ngultrums per day but not anymore," said Passang Lhamo Sherpa, also a vegetable seller from Tsholingkhar.
Meanwhile, officials from the Department of Surface Transport said, most vegetable sheds were constructed without prior approval from the erstwhile Department of Roads as required. The officials also said construction materials are not used in accordance with the Guidelines on the Construction of Public Service Facilities within the Road Right of Way 2021. The guideline says vegetable sheds should look aesthetically decent but temporary in nature and the construction materials should be wooden or bamboo mats.
It was also found that some vegetable sheds were constructed in stretches where there were no safe parking spaces and in turnings, posing a risk of road accidents. The guideline mandates any structure to have a minimum of a three-metre gap from the road pavement.
Meanwhile, the department has been issuing new construction approvals to farmers agreeing to abide by the construction guidelines.
Pema Tshewang, Tsirang
Edited by Kipchu