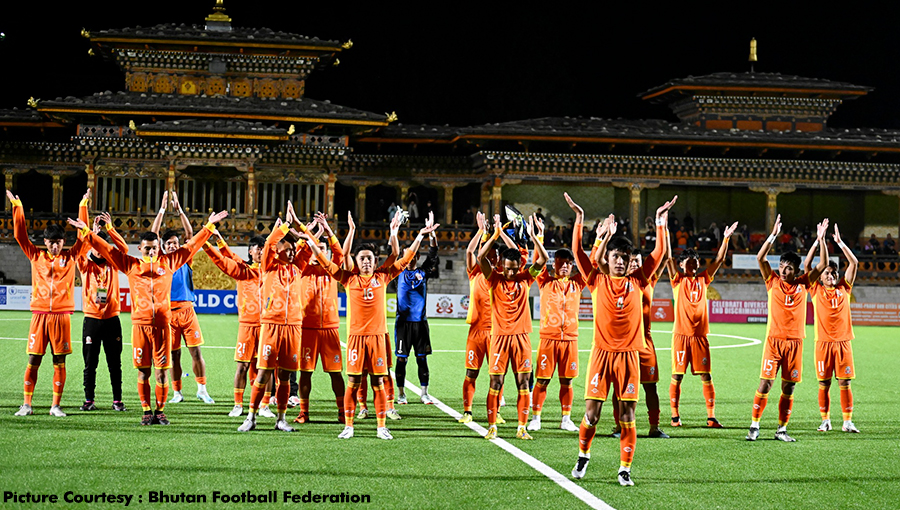 Despite exiting the World Cup 2026 qualifiers after a 4-2 defeat against Hong Kong, China recently, the Bhutan men's football team has secured a group stage spot for the AFC Asian Cup 2027 qualifiers. This is after the team defeated Hong Kong, China two-nil at the Changlimithang National Stadium and emerged as the best-losing team during the recent World Cup preliminary qualifiers.
Despite the 4-2 aggregate loss to Hong Kong, China, the Bhutanese team has directly advanced to the third round of AFC Asian Cup qualifiers without the need to engage in the playoff round.
In the preliminary round of the World Cup qualifiers, Bhutan managed to get three points and emerged as the best-losing team, while the Maldives, Laos, Cambodia, Sri Lanka, and Macau secured one point each.
On the contrary, Guam, Mongolia, Timor Leste, and Brunei could not secure a point.
The nine teams will now have to participate in playoffs to secure a spot in the third round of the Asian Cup qualifiers.
The playoff for the 2027 Asian Cup Qualifiers will be held in Saudi Arabia, next year.
The third round, where Bhutan enters will begin in March 2025.
The Bhutan Football Federation says it does not know yet in which group Bhutan will be placed. The federation is looking to make changes to the squad and in the coaching department to improve the team's performance.
"Since we have one year to decide our current squad or maybe recruit new players or new technical coaches, we must decide but we are looking at the options to improve our squad so that we are well prepared for the Asia Cup third round," said Phuntsho Wangdi, Head of Media, Bhutan Football Federation.
In the third round, 36 teams will be divided into nine groups, each comprising four teams.
They will compete in a double-robin format, where each team will play the other three teams home and away.
From the group stage, 18 group winners, runners-up, and six strongest losing teams will qualify for the 2027 Asian Cup in Saudi Arabia.
Karma Wangdi
Edited by Sherub Dorji