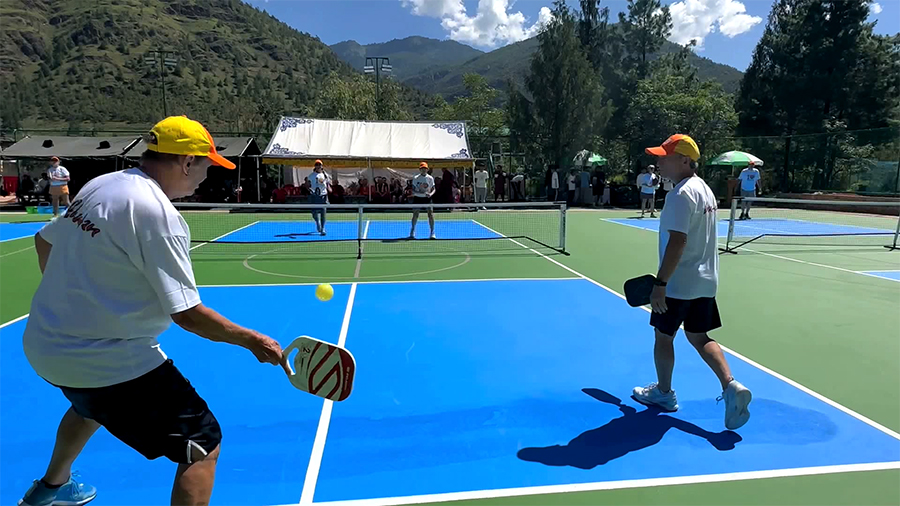 Sports enthusiasts in Paro can look forward to enjoying playing a new game. A group of volunteers from the United States in collaboration with Paro FC has launched the new sport, pickleball and its facility in the district. It was opened at the Woochu sports arena in Paro today.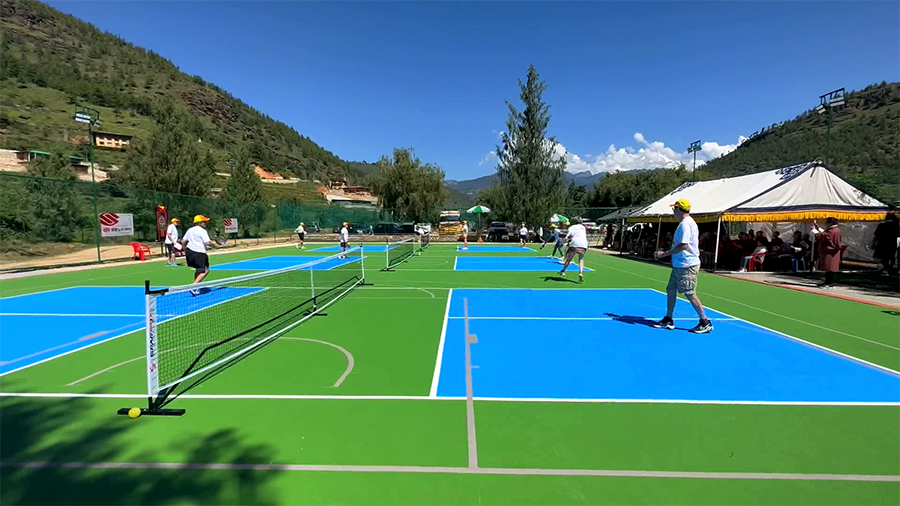 Pickleball is a racket or paddle sport in which two or four players hit a hollow plastic ball with paddles over a net. It is one of the fastest-growing sports in the United States.
The opening of the sport and the sports facility started with a thruesel ceremony led by the Lam Neten of Rinpung Dratshang.
The sports facility includes three pickleball courts with a capacity to accommodate 12 players. It is constructed in a full-length lawn tennis court.
Similar courts were also constructed at Dechencholing Higher Secondary School and Talakha Tashi Drugyel Monastery in Thimphu.
Volunteers had spent over USD 45,000 to build the courts and provide the materials. They will also train about 20 coaches from the three institutes in the coming days.
"We just found out two days ago that we have been accepted to participate as a showcase exhibition export at the Asian games which are in China at the end of this month. This is a major step for us hopefully to get into future Olympic games. Pickleball is now only growing quickly amongst children and adults we have professional players. And I can promise you that pickleball will bring even greater happiness to the country of Bhutan," said Seymour Rifkind, the president of the World Pickleball Federation, USA.
"We will popularise the sport within the district for now and we will try to bring in as many players to train. And once we have enough players and participants then we will organise tournaments and trainings. So, this is the way forward as of now," said Karma Jigme, the president of Paro FC.
Paro FC will train some of its coaches and players and others for free as of now and will charge a minimal fee when the sport gains popularity to meet the maintenance costs.
"This game is not difficult to play. It is like the table tennis that we play in schools. While playing we are fully engaged physically and we can sweat more, I think it will be a good game for fitness," said Karma Wangmo, a resident of Paro.
"The game is fun and easy to learn. I have enjoyed a lot. We can also exercise through this game rather than staying idle at home," said Karma Rinzin Wangda, another resident.
Pickleball was invented in 1965 as a children's backyard game in the United States. The World Pickleball Federation has more than 60 member countries now. Bhutan is not yet a member country.
Namgay Wangchuk, Paro
Edited by Phub Gyem