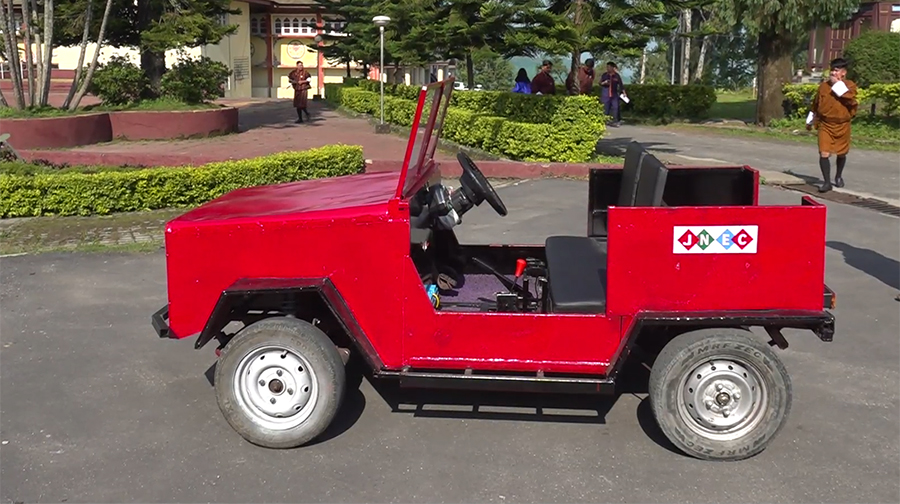 Although electric vehicles have become increasingly common worldwide, it remains a rarity to witness the creation of one in Bhutan. However, in the town of Samdrup Jongkhar, a historic moment unfolded as a team of Bhutanese students developed their very own electric vehicle. Breaking barriers and pushing boundaries, four ambitious students from Jigme Namgyel Engineering College embarked on a remarkable journey, crafting an electric jeep as their final-year project.
The mechanical engineering students crafted this electric jeep within just two months. The vehicle weighs 1,000 kilograms.
The students imported the motor and battery from India and utilized second-hand materials such as wheels and other body parts.
From welding to fixing and improvising the vehicle parts, the students did it all by themselves.
"We did this project to enhance our knowledge of electric vehicle technology and to make ourselves confident and aware of the current dominating electric vehicle technology," said Suk Moti Subba, a student.
The vehicle is designed like any other vehicle. But the vehicle's seating capacity is just four individuals, including the driver.
"I think Bhutan is going for more electric vehicles in future. So, rather than purchasing electric vehicles at high prices, we can import the parts that are required in electric vehicles and we have the potential to manufacture it in Bhutan," said Phurba Wangchen, a student.
"I think we are much confident enough to carry out maintenance of those commercial electric vehicles in our country. That could be one of the finest scopes after carrying out the project," said Bijal Rai, another student.
Currently, the electric jeep can travel approximately 26 to 30 kilometres on a single charge, with the added benefit of the battery auto-charging while driving downhill.
According to the students, charging the battery fully takes approximately four hours. The development of this electric jeep was made possible through the financial support of around Nu 400,000 from the Jigme Namgyel Engineering College's incubation centre, and the World Bank.
Looking ahead, the students have their sights set on further improvements and safety features such as seat belts for their electric jeep and to teach the skills to other students.
Kinley Wangchuk, Samdrup Jongkhar
Edited by Tshering Zam