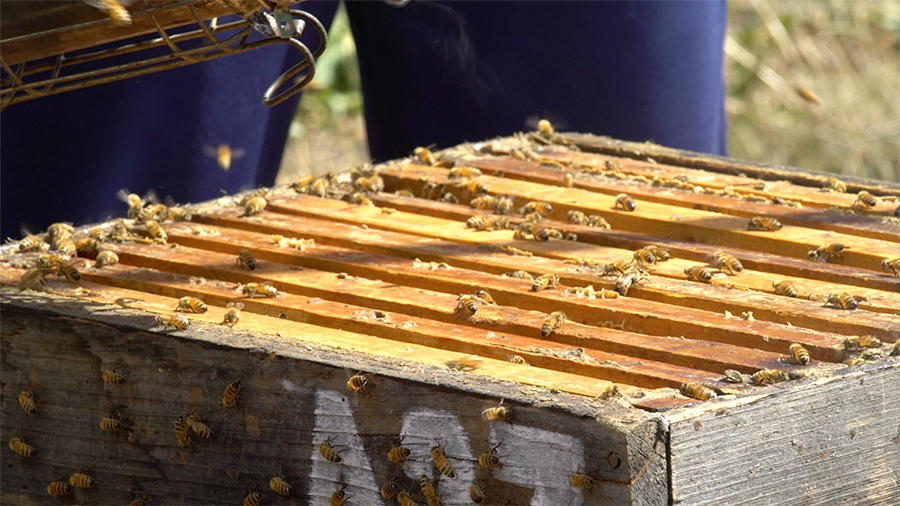 Today is World Bee Day, a day designated to raise awareness of the importance of bees. As tiny as they may seem, bees play a gigantic role in our environment and their significance cannot be underestimated. They are responsible for pollinating 90 per cent of the world's wildflower plants and 35 per cent of the global crop production. In this story, we take a look at the ecological and economic benefits of bees.
At Pelkhil School in Thimphu, teachers and students have embraced the beekeeping culture, managing around five hundred thousand apis mellifera bees housed in eleven beehives. Every week, they diligently conduct health check-ups to ensure the well-being of the bees.
"Right now we cleaned the beehive and this can only be done when the temperature is high, otherwise we won't be able to open the box and this may ruin the whole process. We need to remove the queen cup because it will distribute the population of the drone or male bee and reduce the honey production," said Bali Raj Subba, an agriculture group member of the school.
Bees require a calm environment which is free from external threats and rich vegetation to thrive. But they are under continuous threat from human activity, which includes the introduction of invasive insects, pesticides and land-use change among others.
From sweetening food to dressing wounds, bees have long supported people with honey. Bees not only provide honey but also contribute to pollination, enhancing the production of fruits and other crops. This makes beekeeping a potential income-generating activity in Bhutan.
"One of the main reasons why people rear bees is not only for the honey production but also for pollination because by pollination the production of any fruiting trees or any other crop, the pollination will be much better and in that way the product will be much better," said Guna Raj Kuikel, a teacher of Pelkhil School.
Beekeeping is a thriving activity in Bhutan, offering potential income opportunities for the people. With plans to increase the number of hives, the Department of Livestock aims to increase honey production to around 81 metric tons in the next ten years, generating a substantial income of over Nu 237 M.
"In Bhutan, we have a total of three to four thousand households raising bees with 249 farmers engaged in commercial beekeeping. We have 15,000 hives and we have plans to increase it to 20,000 in the next five to ten years," said Tauchu Rabgay, the chief of the department of livestock.
The department further aims to focus on the production of valuable substances like propolis, royal jelly, and comb honey which are costly and have medicinal properties. And to ensure sustainable honey extraction, the department is exploring the implementation of a new technology called flow hive which allows honey extraction without affecting the honeycomb.
Globally, to raise awareness of the importance of pollinators, the threats they face and their contribution to sustainable development, the UN designated 20th May as World Bee Day. This year's theme is "Bee engaged in pollinator-friendly agricultural production", calling for global action to support pollinator-friendly agricultural production. It also highlights the importance of protecting bees and other pollinators, particularly through evidence-based agricultural production practices.
Tshering Deki
Edited by Sonam Pem & Kipchu