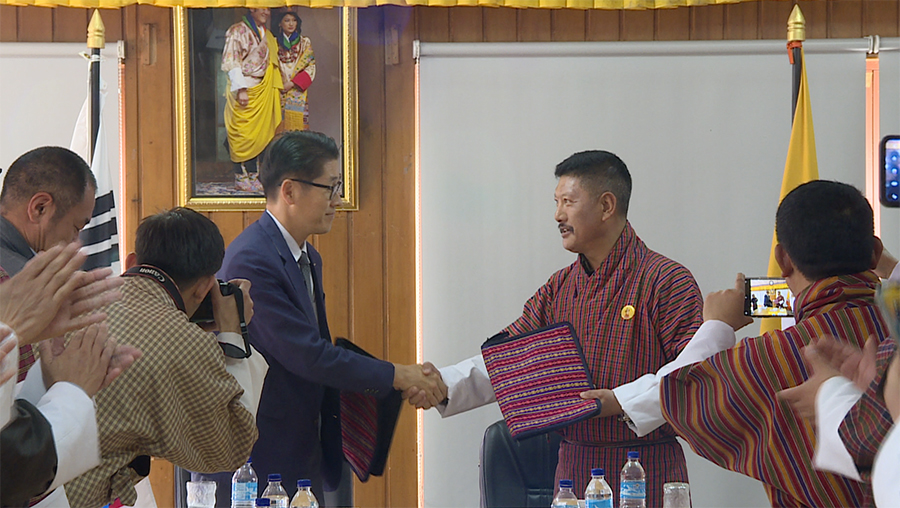 To strengthen and develop business relations between Bhutan and Korea, the Korea Trade-Investment Promotion Agency, KOTRA, and the Bhutan Chamber of Commerce and Industry, BCCI, renewed the Memorandum of Understanding (MoU) signed in 2019. The MoU signed today in Thimphu will allow the two countries to collaborate on trade, provide investment opportunities, and promote mutually beneficial economic cooperation.
KOTRA's Director General Samsoo Kim and BCCI President Tandy Wangchuk signed the MoU on the business cooperation between the two countries.
This is the second time the MoU is being signed between the two organisations.
"After the first signing of the MoU, there was a COVID-19 breakout, so there were inevitable obstacles to proceeding with the MoU. However, with today's signing of the MoU, we will facilitate more economic cooperation between Bhutan and Korea," said Samsoo Kim, Director General of the Korea Trade-Investment Promotion Agency.
This MoU will help the Korean government to understand more about Bhutan's economic environment and also share its economic development experiences with Bhutan.
"Korea has much experience in economic development since the 1960s, so Korea can share her experiences with various sectors, such as food, environment, and manufacturing with Bhutan and be good partners," added the Director General.
This MoU hopes to yield an outcome within six months, unlike the previous agreement.
"The first MoU that we signed was somewhere in 2019, and till then they could not venture into any investment or cooperation so far. This time I personally told him that after signing the MoU, within six months he should come up with some projects, either investment or bringing investors here to invest, or on the trade front, they have to come up with an outcome so that I can update my government that this MoU has come into effect," said Tandy Wangchuk, the President of BCCI.
The MoU will be valid for three years unless renewed by the two countries.
Tashi Dekar
Edited by Kipchu