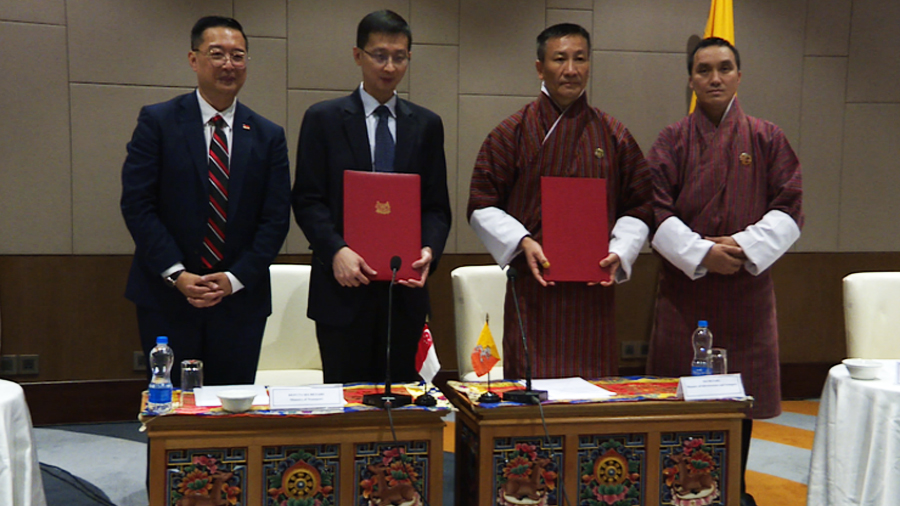 Bhutan and Singapore signed a Memorandum of Understanding, MoU, on an aircraft accident and incident investigation today in the capital. The MoU was signed between Bhutan's Infrastructure and Transport Ministry and Singapore's Transport Ministry. Besides building closer ties between the two ministries, the signing will strengthen cooperation in aircraft accident and incident investigations. The signing also means Bhutan will receive aircraft accident investigation training from Singaporean experts. It will also enable sharing of aviation-related information and expertise between the two countries.
Bhutan's infrastructure and transport secretary said that although Bhutan had made significant progress in the aviation industry, the recent helicopter crash in Lunana was a revelation of the need to do more in the aviation sector.
In a first-ever accident of such nature involving Bhutanese passengers, a helicopter carrying a family of four crashed at Wachey in Lunana in March killing two.
"This MoU would enable us access to expertise in the region. And we should be able to resolve issues like this much faster. Most importantly, the unit that is being strengthened would also enable us to carry out routine inspections and fasten reporting by the air service providers, which will strengthen the oversight of the ministry in terms of aviation safety," said Phuntsho Tobgay, the Secretary of the Ministry of Infrastructure and Transport.
He also said that the signing of the MoU also entails collaboration in post-investigation and data read-out, which requires a lot of technical capacity and expertise.
The Singaporean Ambassador to Bhutan in a recent interview with BBS shared that this is an important step in internationalising Bhutan's airports.
"In order to attract more tourists around the world, and be a responsible member of the ITA, Bhutan needs to have a standard operating procedure for reporting on aircraft incidents and accidents. So, Singapore being at the forefront of the aviation hub, we are here to collaborate and advise Bhutan in this endeavour," said Simon Wong, Singapore's Ambassador to Bhutan
The Singaporean Transport Ministry's Deputy Secretary said that the signing shows collective commitment between the two countries towards enhancing cooperation in aviation safety.
"Singapore and Bhutan share a very warm bilateral relationship. And we also share very common perspectives including the importance of air transport safety. So, today's signing of the MoU reinforces our commitment to collaborating exchange expertise when it comes to safety and investigation. We look forward to continuing this collaboration," said Yee Ping Yi, Deputy Secretary of the Ministry of Transport, Singapore.
Members of the Republic of Singapore and the Royal Government of Bhutan attended the signing ceremony.
Tashi Yangden
Edited by Kipchu