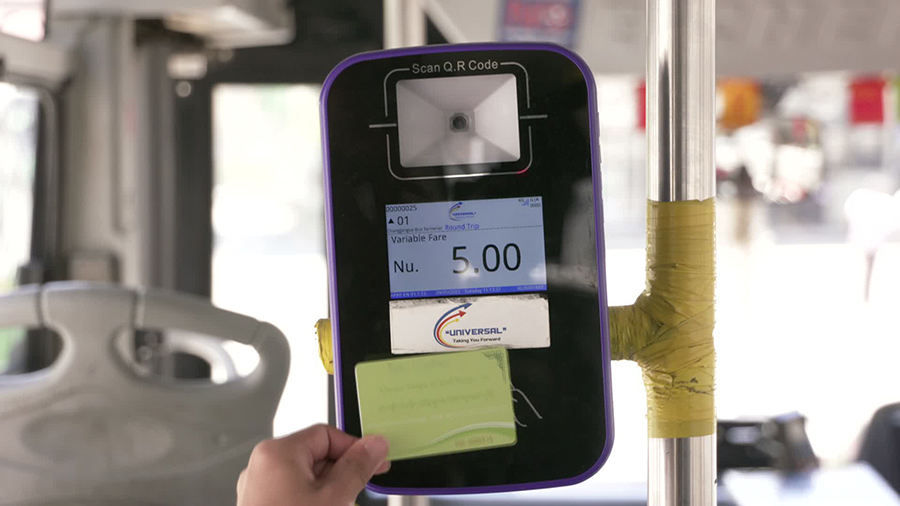 Since the introduction of the city bus smartcard in Thimphu, the number of card users has increased. According to the City Bus office and commuters, this is because it is convenient and efficient. People do not have to carry cash every time and users have to pay less if they use smart cards compared to cash payment. The card system was introduced in November 2021.
Currently, there are almost 18,000 smart card users. The number increased from 11,000 users last year.
"There are four types of smart cards available, each with a different discount, for students, elderly, and persons with disabilities. If a card is lost, the office can be notified and a replacement will be issued within five days with the same amount as the previous card," said Phub Zam from City Bus Office.
She said that upon boarding, Nu 5 is deducted from the card and one ngultrum at every subsequent stop.
If a person travels from the town to Babesa, the person has to pay around Nu 24 which will be deducted from the card.
Whereas, if one opts for cash payment, the person has to pay Nu 10 upon boarding and one ngultrum at every stop, which means the person has to pay about Nu 30 to reach Babesa from the town.
According to commuters, using a card is not only convenient but also helps in reducing the use of paper tickets.
"The city bus card system is beneficial for both the commuters and the drivers. Paying cash causes delay in the services and it becomes inconvenient for those in the queue. Whereas, the card system is more efficient and reduces the travel time to reach the destination," said Nakphela, a city bus driver.
"I did not know about the card system. But someone told me about it and I obtained one today. It is convenient to use this card as we do not have to carry cash at all times," said Karma Lhamo, a commuter.
According to the City Bus office, the card does not have an expiry date for the amount recharged.
However, to use the card, a minimum amount of Nu 50 is needed, or else the card cannot be scanned. The cards can be recharged from 12 outlets across Thimphu City.
Deki Lhazom
Edited by Tshering Zam