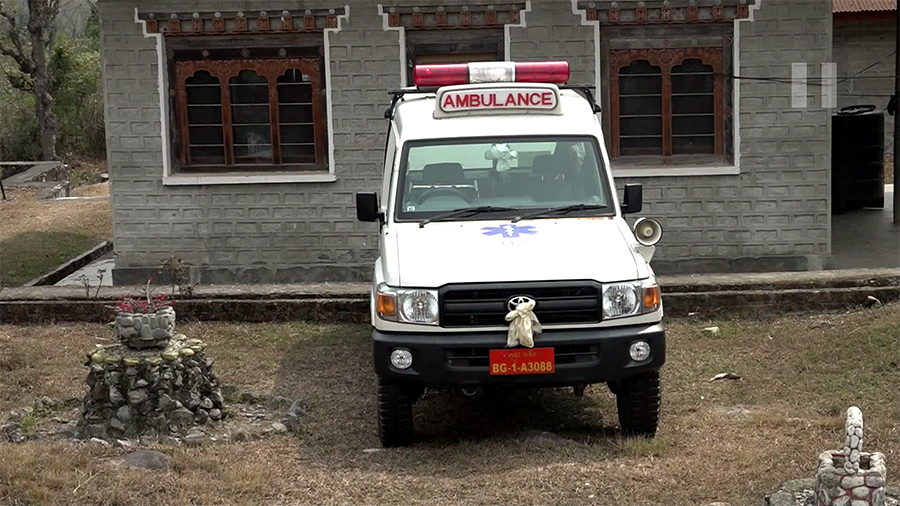 Access to health centres is crucial in saving lives. More so, ambulances enable people to reach health centres faster. But ambulance coverage still remains low in remote parts of the country. However, in Sarpang's remote Chhudzom Gewog where a patient died on the way to a health centre in the past, residents are hopeful that such incidents won't have to repeat hereafter as the gewog received an ambulance in January.
Sarpang has a referral hospital in Gelephu. However, some villages are too far from the hospital making emergency referrals difficult.
Chhudzom Gewog's health centre in Jangchubling is located around four hours' drive from Gelephu. The ambulance mobilized from the Gelephu hospital has come as a huge relief for the people.
"We used to pay Nu 500 as taxi fare to make it to Gelephu and another Nu 500 for the return trip. This was a huge burden for poor people but now we no longer have to bear such expenses. We will now be able to take patients in the ambulance to doctors. We are very happy with the service," said Bhakti Ram Humagai, a resident of Jangchhupling village.
"In the absence of an ambulance, a few residents passed away on the way to the hospital. However, now we will be able to access health services on time," said Dhan Badhur Rai, a resident of Gaalegthang.
"We will now be able to take people to the hospital on time during deliveries and accidents," Ram Prasad Chamling, another resident of Gaalegthang.
Jangchhubling Primary Health Centre was established in 2004.  The BHU receives around 20 to 30 patients a day.
Meanwhile, the country has 123 ambulances spread across close to 70 health centres. According to the health ministry, currently, there are 45 health centres with ambulance shortages and ambulances that need replacement. The ministry plans to procure more ambulances with support from external donors and the government to fill the gaps.
Karma Wangdi, Sarpang.
Edited by Kipchu