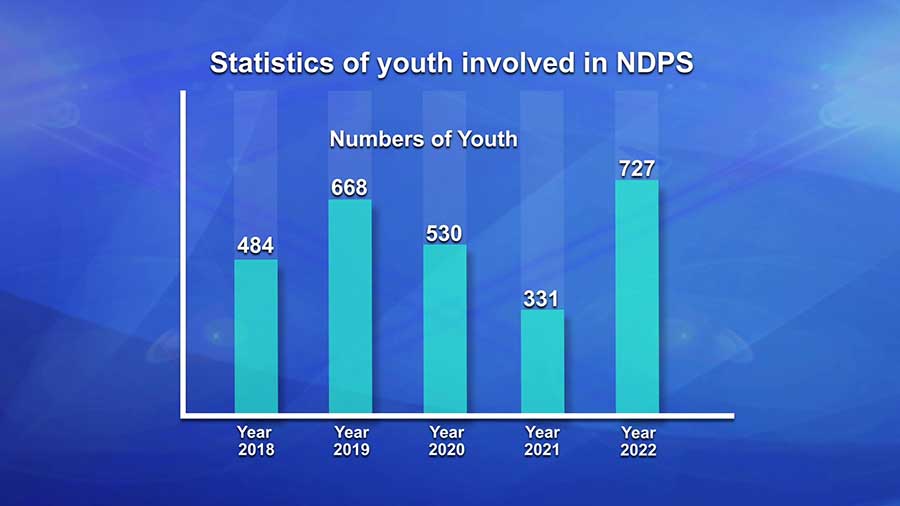 The number of youth arrested for drug-related cases in the country increased by nearly four hundred last year compared to the previous year. This is according to the Royal Bhutan Police. As per their record, 2022 registered the highest number of youth involved in drug-related cases in the last five years.
The police recorded more than 700 youths aged 18-24 years involved in drug-related cases last year, which include Narcotics Drugs, Psychotropic Substances and Substance Abuse. According to the police, cannabis or marijuana is the most abused drug while Thimphu registered the highest number of youth involved in drug cases.
If not for the pandemic, the number of youth drug-related offences has been on an increasing trend.
In 2018, there were 484 cases which shot up to 668 in 2019. 2020 saw a slight decrease at 530 before dropping further to 331, thought largely due to travel restrictions posed by the pandemic. 2022 saw the highest cases in the last five years with 727 youths arrested for drug-related crimes.
Officials from the Bhutan Food and Drug Authority said youth are provided with counselling and timely treatment based on severity.
Similarly, Nazhoen Lamtoen, a non-profit organization, carries out pre-and post-intervention programmes. According to their findings, most youth involved in substance abuse cases are those who come from difficult circumstances.
Yeshi Nidup, the Programme Officer of Nazhoen Lamtoen says his organization focuses on providing livelihood support to families of children who live in difficult circumstances. "We set up micro businesses based on their interest and ability of the family in order to uplift their economic situation, in order to shield them from the difficult circumstances they are living in."
Likewise, the Happiness Centre in Phuentshogling, which is affiliated with Nazhoen Lamtoen, also provides re-integration programs to young individuals involved in substance abuse.
Bhup Dhoj Ghatey, the Project Director of the centre said that they go and talk to the youths who abuse drugs and try to motivate them by sharing their own experiences with substance abuse. "Then, we try to send them to rehabilitation centres and provide financial support to those who cannot afford it. With the Ministry of Industry Commerce and Employment and our parent organisation, Nazhoen Lamtoen, we have provided various skills development opportunities and help in reintegration."
The police recorded more than 2,700 drug-related cases in the last five years.
Tashi Yangden
Edited by Sonam Pem