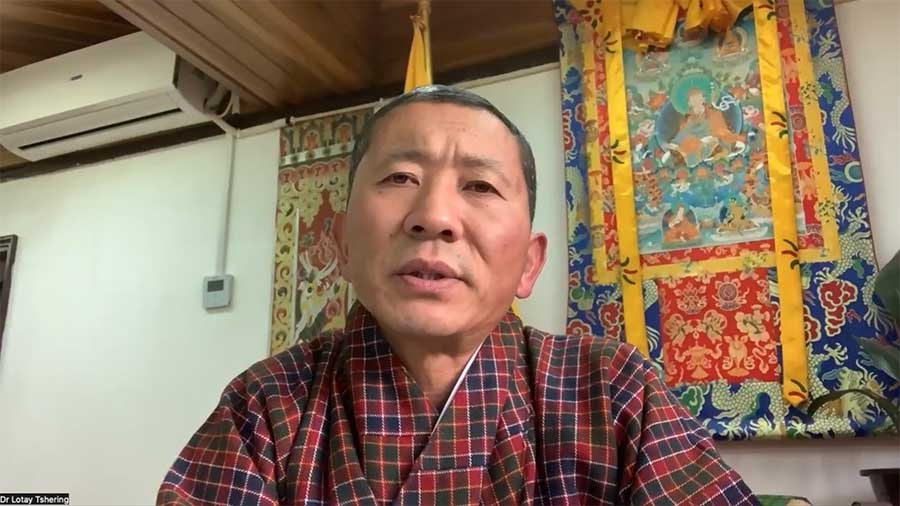 The requirement to include Dzongkha inserts in English newspapers has been done away with. According to the Prime Minister, the decision was made since the criterion was not fulfilling its purpose of promoting Dzongkha. The Bhutan InfoComm and Media Authority (BICMA) issued a notification rescinding the Dzongkha insert requirement in December of last year.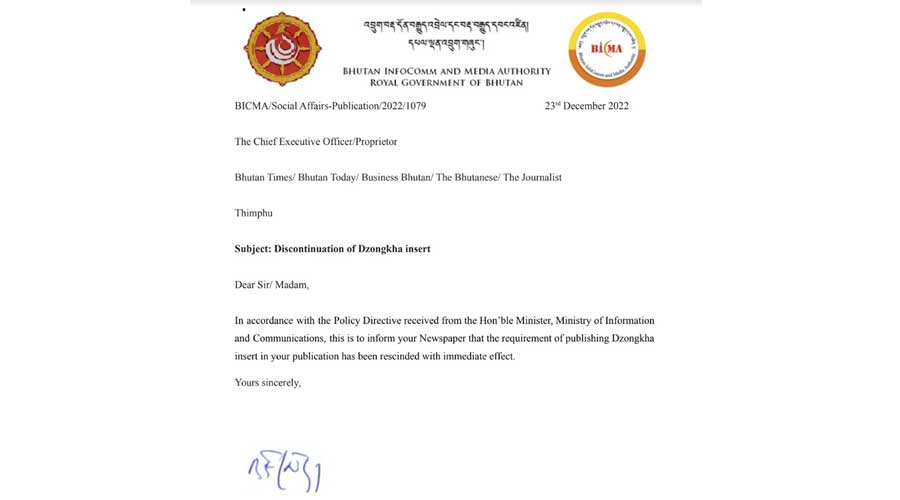 BICMA's notification dated 23rd December of 2022 states that Bhutan Today, Bhutan Times, Business Bhutan, The Bhutanese and The Journalist do not have to put Dzongkha inserts in their publications. The notice states that the decision was taken in accordance with directives from the MoIC minister.
According to the Prime Minister, although the requirement was first put in place to promote and develop the national language, it was not doing so.
''What I observed and what they were telling me were the same. They told me that other than the additional cost, it was not meeting any purpose," said Prime Minister, Dr Lotey Tshering. "The reason for the requirement of a Dzongkha insert was to promote and spread it. But it has neither helped promote nor develop Dzongkha. Everyone was saying that it is a waste of expense.''
Lyonchhen added that this is however not mandatory and that papers can continue inserting Dzongkha pieces if they want to do so.
Meanwhile, some of the private papers BBS talked to said the old requirement was actually hindering Dzongkha's promotion.
''The private papers are mostly adding Namthers and not news, Dzongkha pieces of not very good quality. So it was in fact hampering Dzongkha and the media as a whole," said Tenzin Lamsang, the Editor-in-Chief of The Bhutanese. "The private papers were requesting the last two governments to do away with this clause where English papers have to carry Dzongkha inserts because it was neither helping Dzongkha nor the English Newspapers.''
"Sustainability of private paper was being affected due to shortage of staff and lack of income. At one time, a paper had inserted a Namther instead of news stories. So it wasn't helping improve dzongkhag. We had been making this request for a long time,'' said the Managing Director of Gyalchi Sarshog, Gembo Dorji.
''Being a private media house I think the issue here is sustainability and we have to make an extra payment for the Dzongkha reporter. With that, most of the Dzongkha reporters translate the story from English to Dzongkha, meanwhile, losing the essence and message of the News,'' said Yeshey Lhadon, who works as an Editor at The Journalist.
Meanwhile, the Bhutan Today paper says they will continue to have Dzongkha inserts since the paper has a Dzongkha reporter.
Currently, there are six private print media houses in the country including one Dzongkha paper.
Karma Wangdi
Edited by Yeshi Gyaltshen