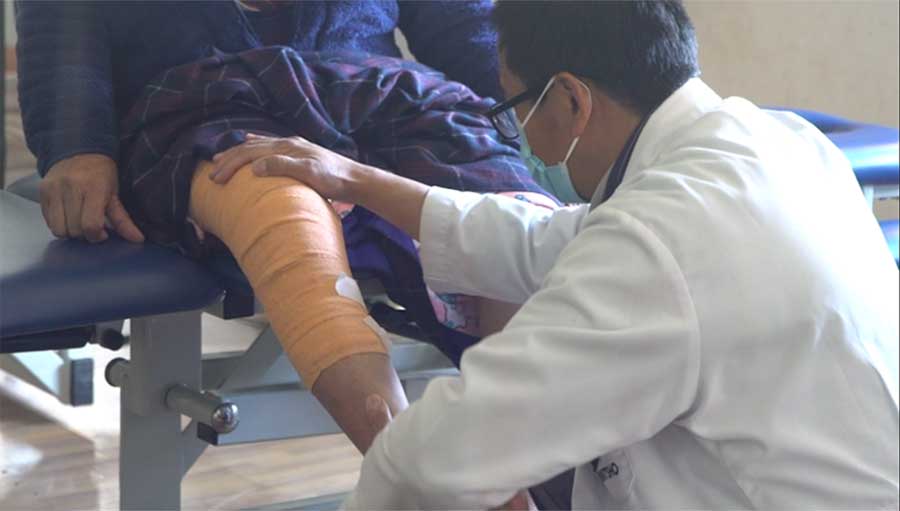 The Jigme Dorji Wangchuck National Referral Hospital (JDWNRH) in Thimphu is planning to conduct knee replacement surgeries on about 20 more patients. This is following the success of the first such surgery in the country. The hospital said the patient of the first total knee replacement surgery in the country is now able to walk properly less than two weeks after undergoing the surgery. Such cases were referred to India till now and involved huge costs.
A total knee replacement surgery is normally carried out on people with worn-out or injured knee joints. It involves removing the damaged joint and replacing it with a man-made joint.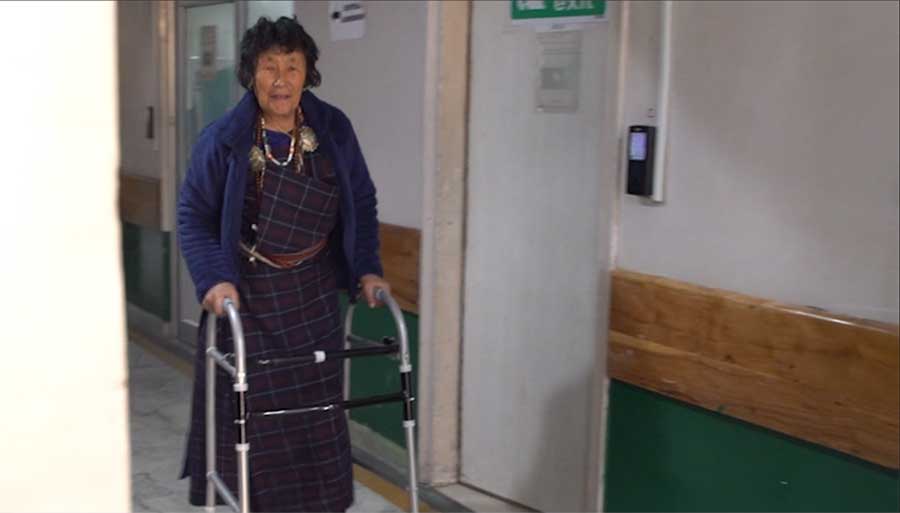 66-year-old Tshering Lhamo from Lunana in Gasa underwent total knee replacement surgery on 30th December. The surgery lasted about an hour and a half.
Today, Tshering says she is able to walk freely without much pain unlike before. Prior to the surgery, Tshering says she had difficulty moving around on a daily basis. But now she says things have improved.
"I was in a difficult situation. I couldn't go anywhere. It was painful for me even while cooking. I had pain when sitting down or getting up," said Tshering Lhamo.
Eleven days after her surgery, Tshering said it has relieved her of the pains she had in her knees.
"It has been so many years since I had pain in my knees. I couldn't go outside for surgery due to the pandemic. Due to my good fortune, the doctors treated me here and my hopes are fulfilled," she said.
Tshering will be undergoing another operation on her left knee which has also worn out and needs to be replaced. However, this will be done once she is fully recovered and once the hospital receives additional artificial knee joints.
For now, Tshering will have to stay at the hospital until she is fully recovered.
"One day after the surgery, we told her how to move her leg slowly. This will help the leg to move more easily with the prosthetic," said Karma Phuntsho, the Chief Physiotherapist at the hospital. "Every day we stayed with the patient and taught her exercises that would help her walk properly."
"Currently, she is able to walk on her own and at times our physiotherapy team helps her. She eats her meals on time and does her exercises to her best and due to this, she is able to bend and stretch to some extent. However, there is a little pain when she does that. Other than that, things are going well," said Dr Kuenzang Wangdi, the head of the Orthopedic Surgery Department.
So far, the hospital has registered about 20 patients for total knee replacement surgery. The JDWNRH said that if the first patient recovers without any health issues, they will be carrying out surgeries on about 2 patients every week.
Performing knee replacement surgeries in the country is expected to help the government save money. The government would have to spend around Nu 250,000 on each patient referred to India for such surgeries.
Chenga Dawa
Edited by Yeshi Gyaltshen