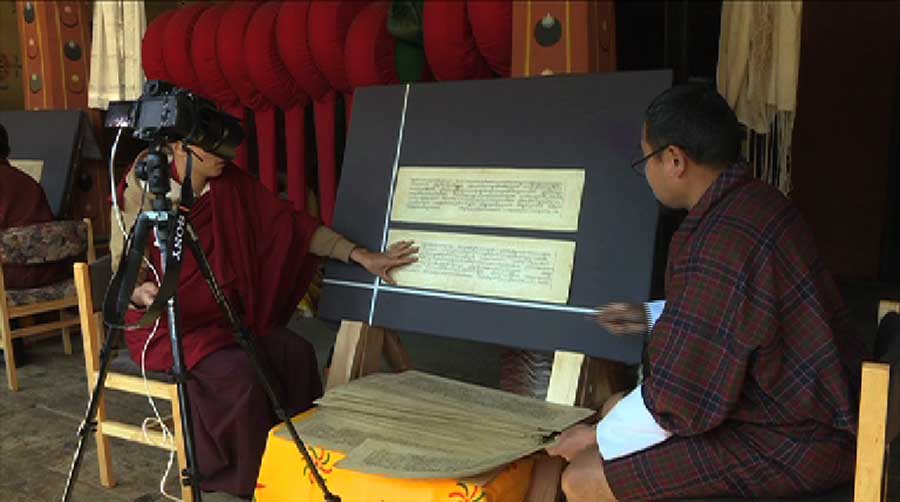 Manuscripts in the country have generally remained inaccessible as well as vulnerable to damage and destruction. So, it has become important to conserve them which are important cultural heritage. The Loden Foundation is initiating the digitisation of manuscripts to conserve and enhance accessibility to the public.
The team began the project from Semtokha Dzong. They are equipped with mirrorless cameras, high-quality macro-lenses and software to ensure natural colour replication of the texts.
According to officials, the project aims to produce nearly 2,000 books using digital photography.
"There are two reasons to digitise the manuscripts. The first is for preservation. If a disaster occurs and if it is damaged, it can be reprinted. Secondly, they are in the form of xylographic texts and available only in monasteries, making them inaccessible to scholars and learners. So, this way they can now access these manuscripts," said Dorji Gyeltshen, Project Coordinator of Loden Foundation.
"From 1996 till 2012, the project covered monasteries and Dzongs across the country to promote the quality of libraries. We visited places and captured pictures of the manuscripts, and biographies not available at the Library," said Yeshi Lhendup, Librarian of the National Library and Archives of Bhutan.
Besides digitising, the monks will be taught how to access it in future. The texts will be also available from the National Library.
"We have it all sorted out by their titles, about eight thousand digitised documents and are kept in these boxes. If any interested individual wants to avail these files, they have to come to the library as they won't be available online," added Yeshi Lhendup, the Librarian of the National Library and Archives of Bhutan.
Loden Foundation with funding from the British Library through its Endangered Archives Programme is carrying out the project. Through the funding, about 40 documents were digitised in the past.
Tshering Deki
Edited by Tshering Zam