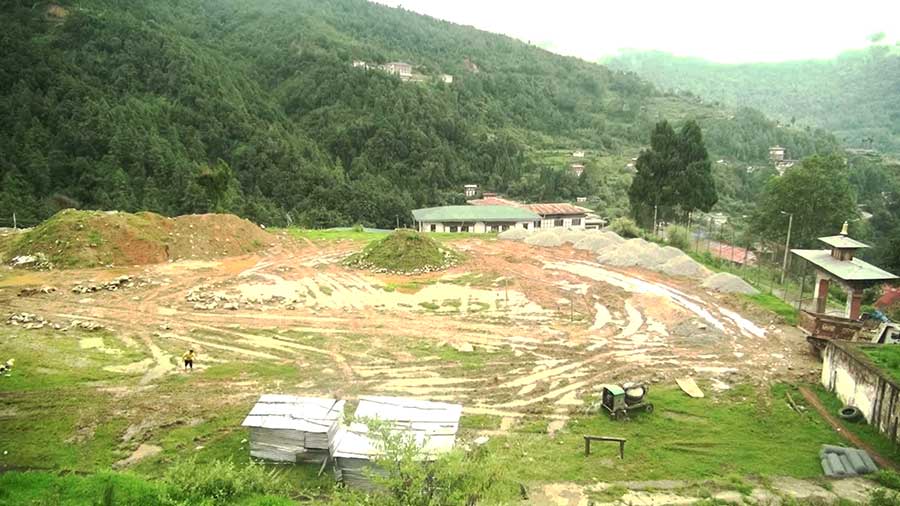 Football lovers in Trongsa are worried that they may not get the first artificial turf football ground ready by the end of next year as scheduled. The works which began in May this year came to a halt a week ago. The district administration terminated the contract due to slow work progress.
The district administration decided to construct the sports complex at Sherubling Central School.
The works began in April this year in a phased manner. The contractor was supposed to complete wall construction and enclosing the ground with chain-link wire mesh fencing in the first phase. These works were supposed to be complete by October this year.
But only about 20 per cent of the works have been completed so far.
According to the contractor, continuous rainfall and lack of space to stock soil for refilling the ground impeded the work. Nonetheless, all materials have reached the site.
According to officials, the contract termination will not affect the cost and duration of the project. The current work is estimated to cost a little more than Nu 12 M. The district administration is now planning to retender the works within a month.
In the meantime, the residents want the work to complete soon.
"All important events are held on this ground. We were happy to see some developmental activities to improve the ground a few months ago. But it came to a halt all of a sudden. Even the contractor is nowhere to be seen. During rainy days, the construction debris makes the road muddy which is troubling the commuters," said Pema Namgyel, a resident of Ueling in Nubi Gewog.
"It seems the project will require more than two years to complete. If that is the case, we still need to travel to Bumthang and Langthil Gewog to play football, which is costly and time-consuming," said Tshering Dendup, a resident of Sherabling.
In the second phase, the project will see the development of a gallery, installation of floodlights, construction of about 600 seats for spectators, and washrooms among others. The entire sports complex is estimated to cost about Nu 57 million.
The Bhutan Olympic Committee is providing artificial turf.
The development of the sports complex is expected to boost the local economy and help people in the district maintain a healthy lifestyle.
Passang, Trongsa
Edited by Phub Gyem