Until 2019, roadside workers looked after the Gewog Centre Roads in Tsirang. But after the roads were handed over to the Gewog Administration, the government let go of these workers. Instead, they started providing the gewogs with some maintenance budget. But maintaining the roads has been a problem and Tsirang Toed Gewog is now re-employing these workers to address the issue.
A few months ago, several stretches along the 12-kilometre Tsirang Toed Gewog Centre Road were covered in overgrown bushes and numerous potholes.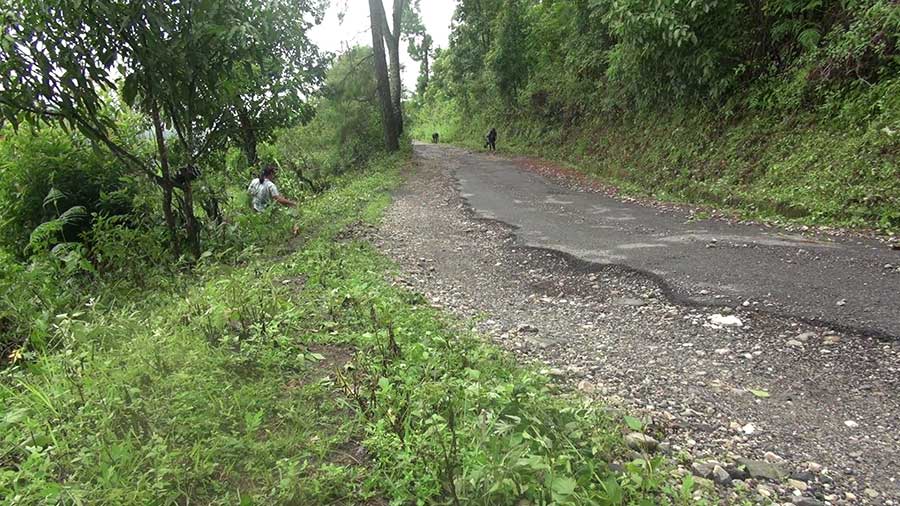 But the condition is expected to improve now as the gewog hired three workers last month.
Dal Bdr. Darjee, a father of five worked along the road for three years before he lost his job in 2018. But now he is back on the same road earning for his family.
"I worked along this road and raised my children. But I had a tough time after I lost my job. I am grateful to the Gewog Administration for hiring us," said Dal Bdr. Darjee.
Today, Dal Bdr. Darjee and his friends have already cleared bushes and drains. The gewog hired them for a year and pays them Nu 215 per day.
"In absence of workers, the gewog administration sought help from respective chiwogs to carry out the road maintenance. But it didn't go well since we had to call them often for work. They questioned the use of the maintenance budget that the Gewog is getting from the government," said Tsirang Toed Gup Nanda Lal Kharel.
The commuters are also happy with the initiative as they are hopeful of overcoming bumpy rides.
"The road condition has worsened over the years. But the initiative of hiring road workers and carrying out maintenance will benefit us immensely. It is a good initiative," said Jamphel.
Of the 12 gewogs in the district, more than half of the gewog centre roads are in bad shape today. And commuters say re-hiring the roadside workers using the maintenance budget is the right solution to the problem.
Pema Tshewang, Tsirang
Edited by Tshering Zam