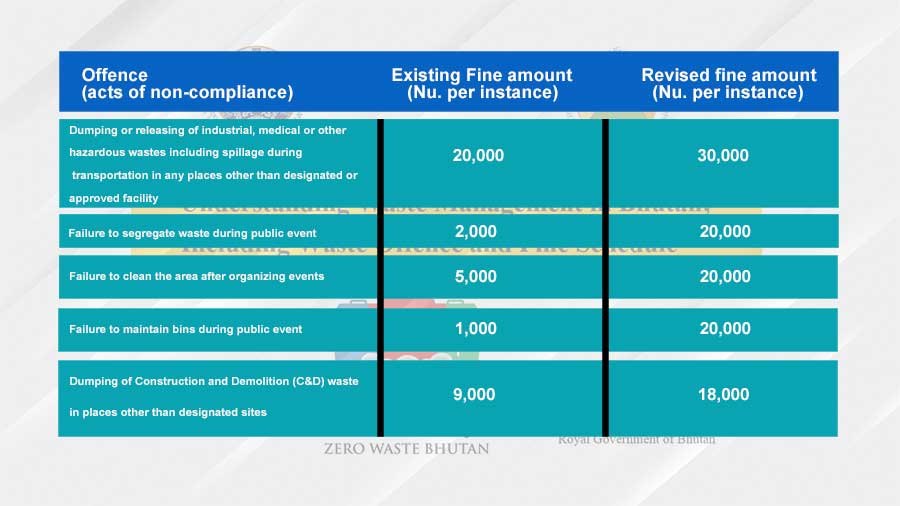 There will be no more easy way out if you are found dumping wastes illegally. You could be fined up to Nu 30,000. This is if the National Environment Commission's revision of Waste Prevention and Regulation 2012 is approved. With the rise in improper disposal, illegal dumping and littering every year, the NEC is proposing the revision.
The penalty of Nu 30,000 will be imposed on those who dump industrial, medical or other hazardous wastes including spillage during transportation in any places other than the designated or approved facility. Currently, the offenders are fined Nu 20,000 as per the Waste Prevention and Regulation 2012. As per the commission, the current penalty amount is less.
The commission also proposed increasing the penalty for waste offences during public events. Those who fail to maintain bins, segregate wastes and clean the area after organizing an event will be fined Nu 20,000.
The increase is a minimum of four times the current penalty. Currently, individuals and organizations failing to maintain bins during public events are fined Nu 1,000 only. Likewise, failure to segregate wastes during such events is imposed a penalty of Nu 2,000. And failing to clean an area after organizing a programme is fined Nu 5,000.
Similarly, the penalty for illegal dumping of construction and demolition wastes will be Nu 18,000 per truck, up from Nu 9,000 as per the existing regulation.
The commission also proposed imposing a Nu 500 fine for littering at any public place, dumping wastes in non-approved sites and urinating or defecating in public places. The current penalty is set at Nu 100 for these offences.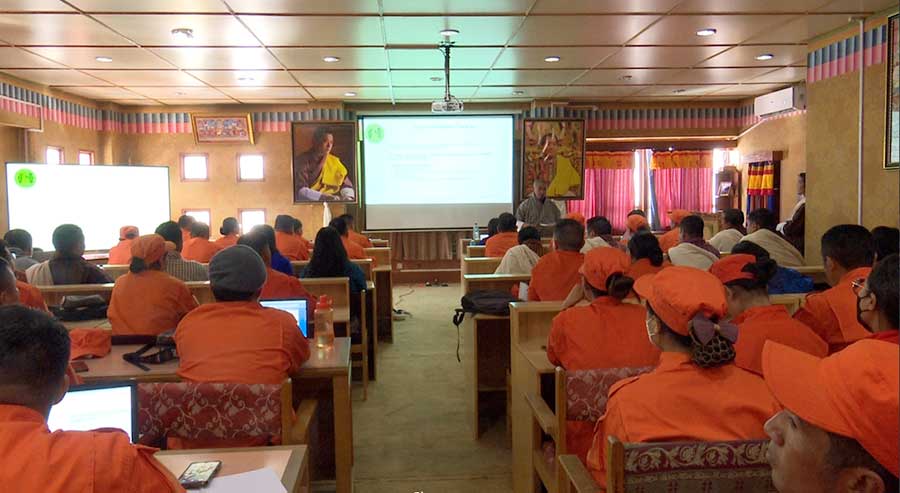 The commission plans to use a mobile application and will engage DeSuups in this move. More than a hundred DeSuups and district environment officers are being trained to use the mobile app. They will train the district officials and local leaders after the training.
According to Thinley Dorji, the Chief Environment Officer at the NEC, the commission has identified 25 lists of penalties.
''It has been there since 2012. We have the Act in 2009 and the regulation in 2012. So, this legal provision was there since 2012. But then enforcement wasn't effective. So now we are doing this through a digitised system, whereby you can do the monitoring, report the offence through the zero waste Bhutan application," he said.
According to the commission, currently, they are unable to enforce the waste prevention regulation due to a shortage of manpower. There is also a lack of a proper strategic plan to record, track and penalize offenders. And false or incorrect information from the offenders during manual registration has caused inconvenience to implement the regulation successfully. The mobile application is expected to address all these issues.
Karma Wangdi
Edited by Phub Gyem