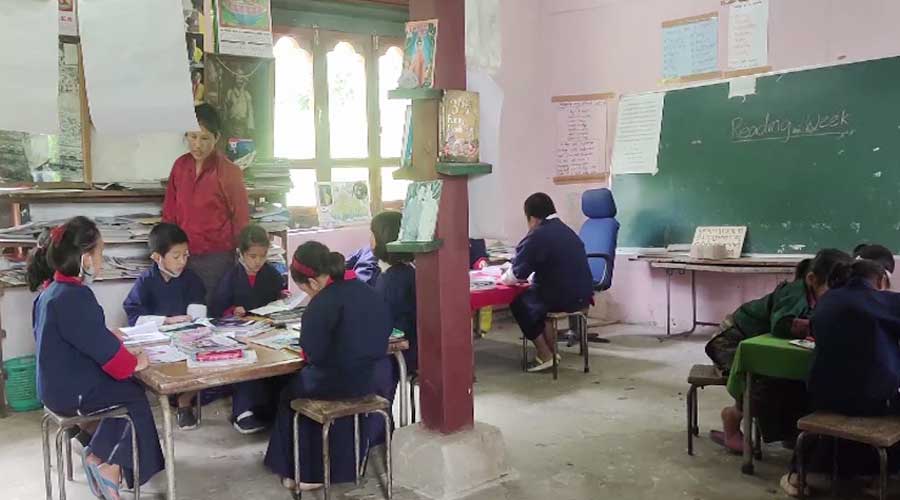 Every year, teachers in schools across the country quit their profession in numbers, leaving the education ministry scrambling to fill the gaps. But what is more concerning about teacher attrition is its impact on the quality of education. The recent resignation of teachers at the Tshanglajong Extended Classroom in Zhemgang has left parents worried that it could affect their children's education.
Currently, a lone contract teacher is teaching some 16 students in the Extended Classroom or ECR in Tshanglajong Village. She was posted at the school in June this year. The teachers left to continue their studies abroad.
The new teacher doesn't have prior experience and having to deal with the students single-handedly has caused concerns among some parents. They said the education ministry should do something to stop teachers from resigning in the middle of the academic year.
"Unlike in the past, I don't know if our children will receive a quality education without an experienced teacher. Hope the education ministry considers this an urgent issue and addresses it at the earliest," said Dhizang, a parent.
"Teachers resigning mid-year is a major problem for everyone. I think they should resign either at the end of the academic year or at the beginning. That way, the gap can be filled with proper planning," said Karma, another parent.
"We don't have permanent teachers here. The recruit is a contract teacher and has no experience. So, we are worried about the quality of education for our kids," said Tshanglajong-Zurphai Tshogpa, Tashi.
However, the District Education Sector clarified that this is a temporary arrangement and that a regular teacher will be transferred to the ECR soon.
"It's not easy to send a replacement for those teachers who resigned in the middle of an academic year. And as the such school continues to face resource constraint and even compromises the quality of teaching and learning and it's even more difficult to convince our people of the advantages of consolidating the smaller primary schools into the nearby bigger schools, which provide all the facilities," said Chief District Education Officer, Pelden Wangmo.
Tshanglajoing ECR was established as a primary school in 2004 with more than 100 children. However, due to declining enrolment over the years, the school was converted to an Extended Classroom in 2013.
According to the District Education Sector, three teachers in the district have resigned this year while another two are on extraordinary leave.
Zhemgang has about 30 schools including 10 ECRs.
Pema Samdrup, Zhemgang
Edited by Pema Lhaden