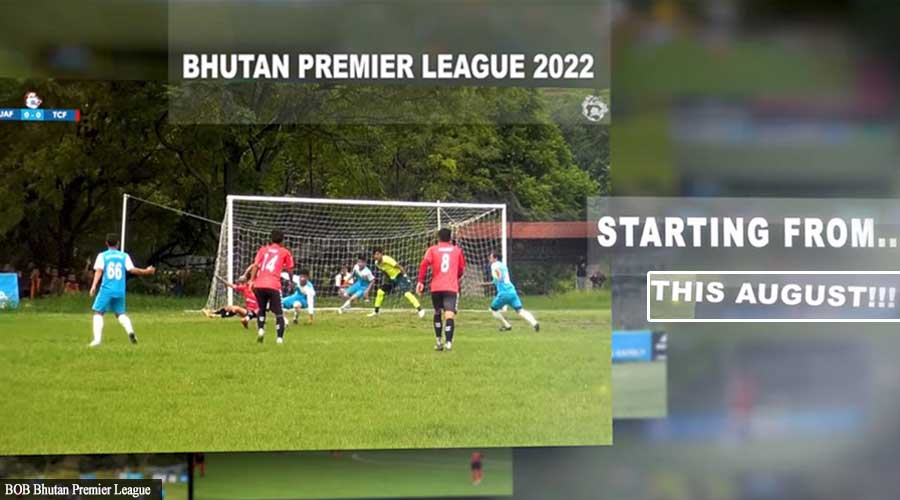 After more than two years, the BOB Bhutan Premier League (BPL) season beginning next month is expected to be dramatic and exciting. Clubs are gearing up for the BOB BPL like never before. Fans in attendance and international players this season will be a spectacle to witness.
For more than two years and two seasons, the BOB BPL was played behind closed doors due to the pandemic and clubs had to rely on local talent. However, this year's BOB BPL season is expected to be more exciting with many top clubs signing international players to boost their current squad. At least 20 international players are expected to feature in the BOB BPL.
There are 10 clubs from Thimphu, Paro, and Punakha participating in the top-tier league of Bhutan. Apart from the local players, top clubs such as Druk Lhayul FC have already announced the signing of three international players from African nations. According to the Bhutan Football Federation (BFF), clubs are also looking at players from Japan, Spain, and from the Indian Leagues.
"We are getting a lot of good foreign players, especially from Japan, Africa and also from Europe. It is going to be very competitive and obviously, fans are looking forward to it. Clubs can register five foreign players, and four can feature in a single match," said Phuntsho Wangdi, the Head of Media and Marketing at the BFF.
Apart from the international signings, internal transfers on loans and transfers are also being made at the moment. Six clubs recently booked their spot in the BOB BPL apart from Thimphu City FC, Paro FC, Druk Lhayul FC, and Transport United FC.
With such major tournaments and new clubs coming in, the development of the sport is picking up the pace like never before.
Tshering Dendup
Edited by Tandin Phuntsho