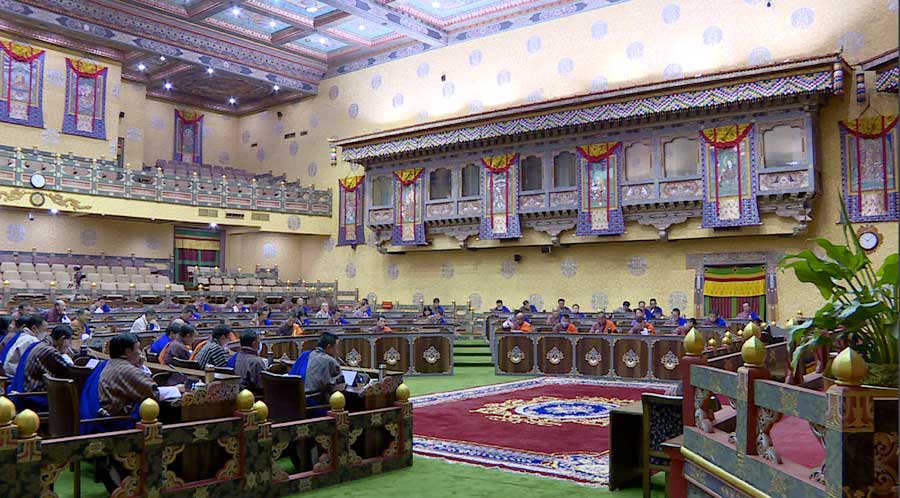 The joint sitting of the parliament today declined to support the joint committee's recommendation to grant human resource (HR) independence to the Anti-Corruption Commission (ACC). The two Houses had opposing views in this regard during the previous session of the parliament, convened last winter.
That time, the council put forth their stand that the ACC must have complete independence in its HR management. However, the assembly did not support this.
But in the joint sitting today, the joint committee submitted its recommendation, soliciting support from the members to provide the ACC with HR independence.
The committee shared that the recommendation was the result of several consultations with the ACC, the Royal Civil Service Commission (RCSC) and the Judiciary.
To support its recommendation, the committee also referred to the amended section of the Anti-Corruption Commission (Amendment) Bill 2021.
The amended section stated that "The commission shall determine its organisational structure and administer it independently."
Prior to amendment, the section outlined, "The commission shall determine its organisational structure in consultation with the RCSC and administer it independently."
However, the majority in the House was against the recommendation including the Prime Minister.
"I believe that the government providing the human resources is preferable. If we make changes, then what will happen if the employees leave the commission and the situation becomes grim in the future? My worry is what if we regret the decision that we take now? Is it too soon to make such decisions?" said Lyonchhen Dr Lotay Tshering.
Other parliamentarians were on the same page.
"Yes, HR independence is important for every constitutional body but let us not hurry. If it's helpful to ACC then there is no problem but we cannot predict the future. There might be a chance of conflict with the RCSC," added Athang-Thedtsho MP Kinley Wangchuk.
The MP also expressed his reservation over the recommendation.
"Is it really important to decide about it immediately? The RCSC has a procedure to recruit civil servants. So, I am really doubtful of supporting this recommendation."
The matter was resolved through voting. Of the 62 MPs present and voting, only 20 voted in favour of providing HR independence to the ACC. Thirty-seven voted against it and five chose not to vote at all.
While seeking a view on this, the ACC said they have no comments for now.
The commission has been proposing HR independence to the highest decision-making bodies in the country for many years now.
The rationale behind their consistent proposal is to address their high employee attrition rate.
Besides this, the joint sitting endorsed 31 of the 34 recommendations of the joint committee related to the ACC (Amendment) Bill 2021. The remaining three recommendations were rejected.
Sherub Dorji
Edited by Pema Lhaden