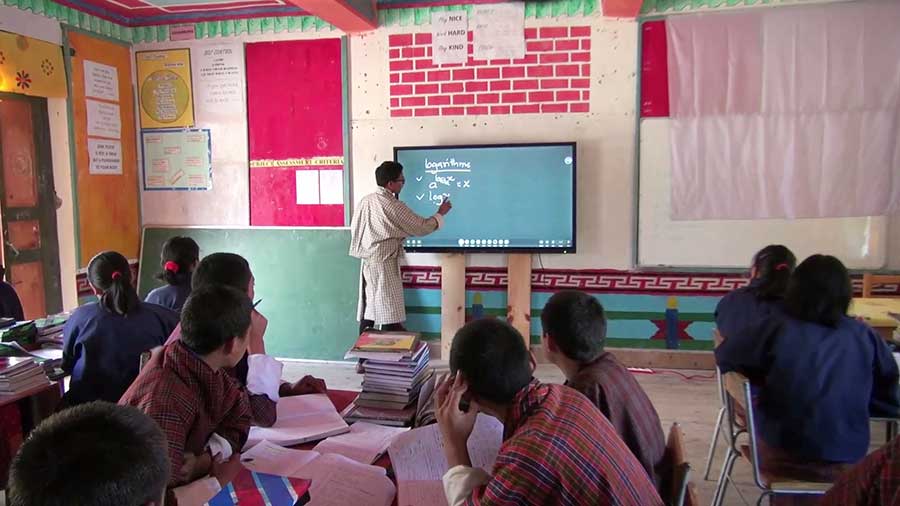 Ura Higher Secondary School in Bumthang becomes the first school in the country to be equipped with multiple touchscreen smart boards. The Druk Nyo Foundation donated nine such boards worth around a million ngultrum to the school recently. This is a part of the foundation's Digital Classroom project aimed at equipping schools with such boards.
The interactive smart boards are just like giant smartphones that can be connected with both broadband and WiFi. With the boards fixed in classrooms, teachers will no longer have to use chalks and dusters.
All the writing and erasing are a fingertip away. The board supports both iOS and Android devices. It can be also used as a television.
One of the most interesting features is that all the notes written on the whiteboard can be shared with students after generating a QR code. Some classes have already started using the boards.
"With the education reform and curriculum changes, teachers are expected to make the best use of the Internet for teaching. So, with the smart boards, we will be able to instantly access all the relevant online resources. I feel this can provide students with a broader perspective of the lessons besides textbook knowledge," said Sangay Tenzin, a teacher of Ura HSS.
The boards which cost over a Nu 100,000 each are donated under the foundation's Nyo Education Initiative with financial support from ASIA Onlus, an international non-profit organisation based in Italy and the Italian Autonomous Province of Bolzano.
The Druk Nyo Foundation is a religious organisation founded in 2017 under the patronage of Sumthrang Choeje, the lineage holder of Gyalwa Lhanangpa.
"We do not just want to just focus our foundation's aims and objectives towards the monastic institution but also extend our support to communities. Therefore, we have a few projects such in the agriculture, culture and education sectors. So this is one of the first initiatives that our Education Initiative is supporting to the Ura Higher Secondary School," said Sonam Nyenda, a member secretary of the Foundation.
The foundation will also donate nine interactive smart boards to Gesarling Central School in Dagana soon. Similarly, there are plans to provide such boards to more schools in the future.
The foundation's noble initiative could go a long way in shaping the lives of the students and complementing the education system's digitalisation efforts.

Kipchu, Bumthang