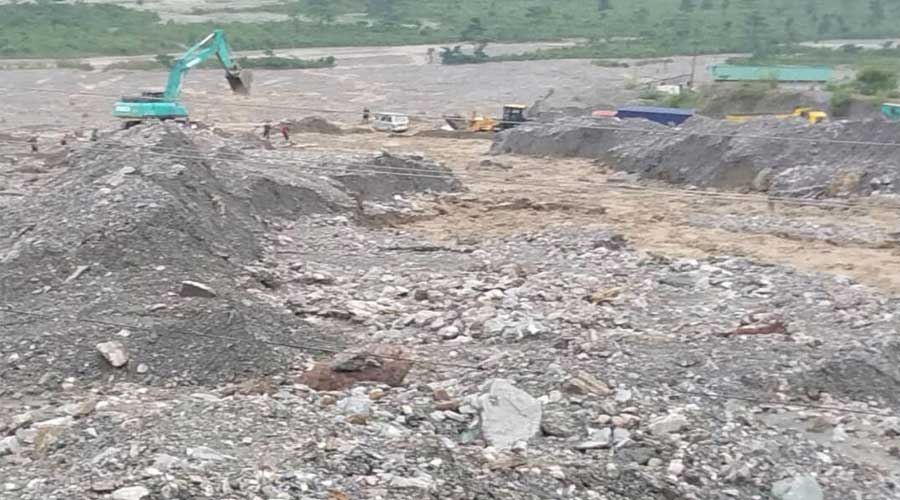 Two boys of Chumigthang Middle Secondary School were exposed to a flashover or high voltage electric discharge from a transmission line over Bhaunijhora River at Pasakha in Phuentshogling. While one of the boys escaped with minor injuries, the other boy is still in the hospital. The boys were returning from school on Saturday.
The boys were exposed to high voltage electric discharge from the 11 KV transmission line due to the silt deposit on the river bed. The taller boy (14) was knocked unconscious by the high voltage electric discharge. He suffered burns on his hands and legs. The DeSuups and police who were monitoring the nearby roadblocks took the boys to the hospital immediately.
The minimum safe distance from the high voltage transmission line to the ground level is six metres. However, debris and sediment deposited in the area during the recent flash floods raised the ground level and reduced the distance to the overhead transmission lines to around two meters at the time of the incident.
According to the Bhutan Power Corporation, ground clearance of the transmission line was maintained as per the required standard on Friday. The office however says more debris and sand deposited the next day has increased the ground level again causing the mishap. The management says they are in constant touch with the victim, his family and the doctors. The debris and sand at the accident site have been cleared for now.
The police are investigating the incident and once it is complete the case will be forwarded to the court.
Ashok Tirwa/Sonam Penjor