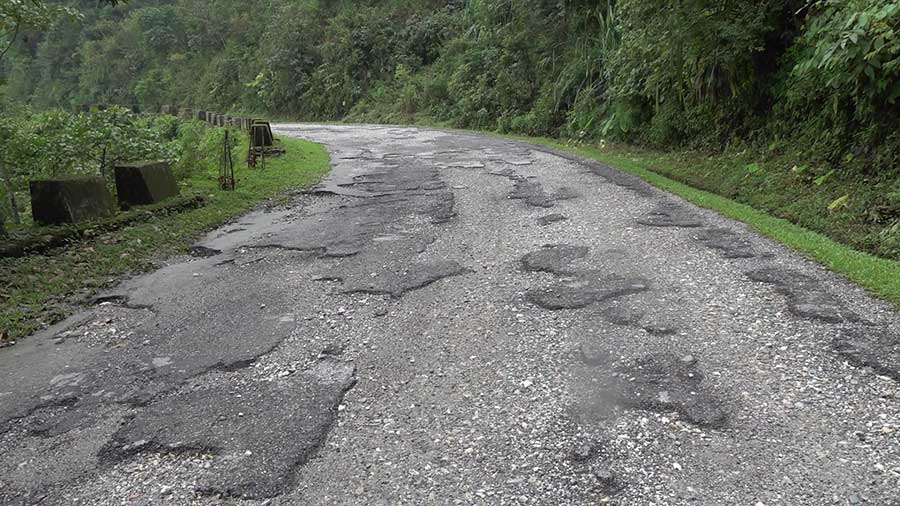 The World Bank describes roads as "arteries through which economy pulses." This phrase resonates with the internal highway between Phuentshogling and Samtse as it has a crucial contribution to the economic development of Samtse and Chhukha districts. However, with almost half of the highway in deplorable condition, it needs immediate repair.  
Since the border gates are still closed, the 58 kilometres of internal highway, connecting Samtse and Phuentshogling has become the main economic lifeline for the people of Samtse and Chhukha.
But the condition of the highway, especially the 25-kilometre stretch from Samtse towards Woezergang is in an awful state.
The road also connects Dorokha Dungkhag with the other parts of Samtse
The daily commuters are greeted with endless potholes. Also, the monsoon has wiped out most of the blacktopped portions along the stretch. The recent rainfall has partially flooded the road.
Amid the COVID relaxations, the fleet along the highway has increased significantly. About 300 to 500 vehicles travel the road every day.
As the wet season has peaked, regular travellers say the highway will further deteriorate.
"We would have travelled via the Indian roads if the gates were opened. But today we have no option but to use this internal highway, which is really in a pathetic condition," said a taxi driver in Samtse, Santa Bdr Pakrin.
His resentment grew while sharing about the high maintenance costs of his taxi due to the bad road.
"I have spent the income earned by the sweat of my brow to buy a taxi. But my taxi often faces mechanical breakdown due to the poor road condition."
Others familiar with the highway expressed a similar predicament.
"The potholes have turned into puddles after the continuous rainfall. While crossing them, we lose control and get close to skidding. I am so tired of travelling along this terrible road. I hope the concerned authorities repair the road soon," said another taxi driver in Samtse, Tek Bdr Suberi.
Bal Bdr Biswa, also a taxi driver complained about the poor road condition.
"The topmost layer of the road has been washed away. We can see glaring gravel and uneven surface. Driving on this road damages our cars and when taken for maintenance, we don't get the spare parts easily."
The highway was last rehabilitated in 2018. The Department of Roads (DoR) regional office in Phuentshogling planned to renovate the road last year. But the plan was shelved due to the lack of funds.
Nevertheless, the office has proposed for the budget to the works and human settlement ministry to resurface the internal highway this year.
Passang Dorji, Samtse
Edited by Pema Lhaden