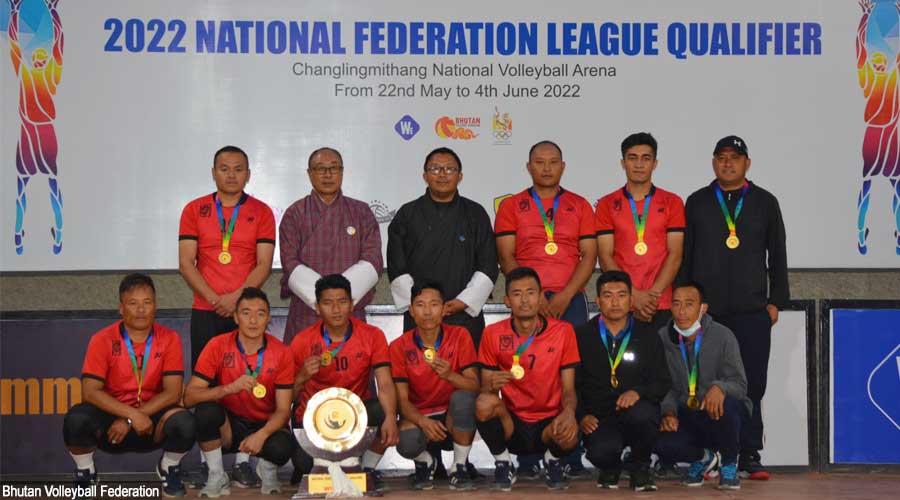 After a hiatus of two years amid the pandemic, the Bhutan Volleyball Federation started its National Federation League beginning this year. This, the Federation said is to encourage the sport in the country. And in the League Qualifier played on Saturday, Drukpol Volleyball Club emerged victorious.
Seven volleyball clubs from Thimphu and one from Punakha participated in the league since May this year. From the league qualifier matches, six teams were selected who will now play in the National League in September this year. The winners were given cash prizes and trophies.
"In today's match, we were the runners up. In the future, we would like to prepare and train more and play better," said Thinley Phuntsho, a volleyball player.
"I hope that the clubs prepare and practise and improve their skills in preparation for their tournament. Moreover, we hope that the spectators get encouraged to take up the sport and participate in volleyball," said Umang Deep Rai, Assistant Program Officer of the Bhutan Volleyball federation.
The Volleyball Federation affiliated nine volleyball clubs and organised the first-ever National Volleyball League in 2019 to address the declining popularity of volleyball in the country, The Bhutan Volleyball federation is one of the oldest sports federations in the country.
The Bhutan Olympic Committee established the federation in 1992.
Karma Wangdi
Edited by Sonam Pem