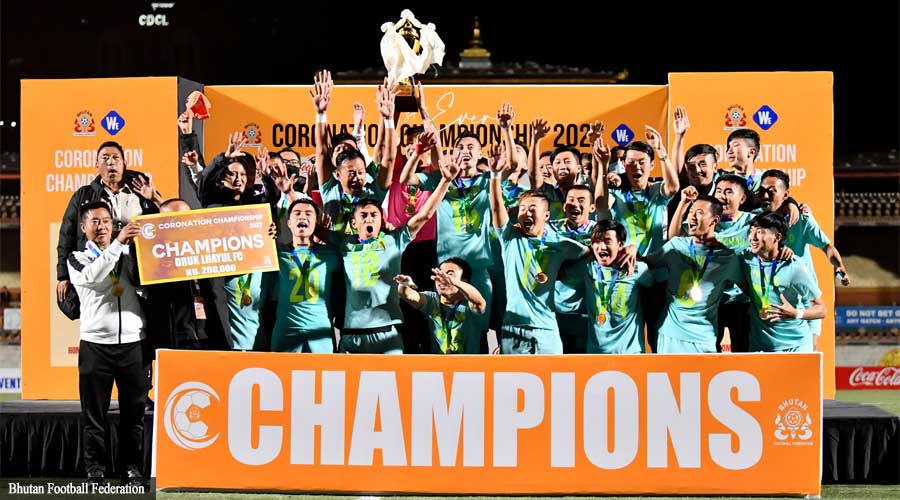 Druk Lhayul FC are the champions of the 2022 Coronation Championship beating Paro FC on penalties. The final played yesterday at the Changlimithang stadium was nothing short of a spectacle. With thousands of fans witnessing the match, it lived up to everyone's expectations, and more. 
Paro FC, the current champions of the Bhutan Premier League, went into the game as the favourite to win the championship. They kept the pressure on Druk Lhayul from the beginning trying to break the wall. But it wasn't meant to be; Druk Lhayul's goalkeeper, the best goalkeeper of last year's BPL, remarkably saved a few critical on-target shots saving the team on several occasions.
The intense match kept the fans on their toes the entire time. With solid defending, Druk Lhayul took the game to extra time. Even after a sensational 30 minutes of gameplay, the match eventually went to the penalties.
Although both teams had a 50-50 chance of winning, Druk Lhayul FC got a boost in confidence when the Paro FC goalkeeper made a dreadful mistake during the shootout. He blocked the penalty and went on to celebrate only for the ball to bounce back into the goal post. Paro FC missed a penalty after that and ended 5-4 in favour of Druk Lhayul FC.
Although the club was formed last year, it managed to win one of the most competitive championship cups. It was also the first major trophy for the young coach, Kinley Tobden, with Druk Lhayul FC.
"I want to thank my players for believing and trusting in my tactics, my coaching, and helping me grow. The feeling is too good and all of us were looking forward to this feeling. At first, we tried 4-3-3 but it wasn't effective so we switched it to 4-4-2. We focused on the playing philosophy of our country. All defending, transition, and counterattack with high spirit. Even if it didn't work on the attacking side, the defending was too good. I believe that effort is more important than talent," he said.
Druk Lhayul FC took home the winning trophy and a cash prize of 200,000 ngultrum while the runner-up received 100,000. Druk Lhayul FC's Tenzin Dorji was named the Most Valuable Player of the tournament. He will get to travel to Qatar to witness the 2022 FIFA World Cup sponsored entirely by Coca-Cola.
Meanwhile, Druk Lhayul FC have their eyes locked on the Bhutan Premier League set to begin later in August this year.
Tshering Dendup
Edited by Sonam