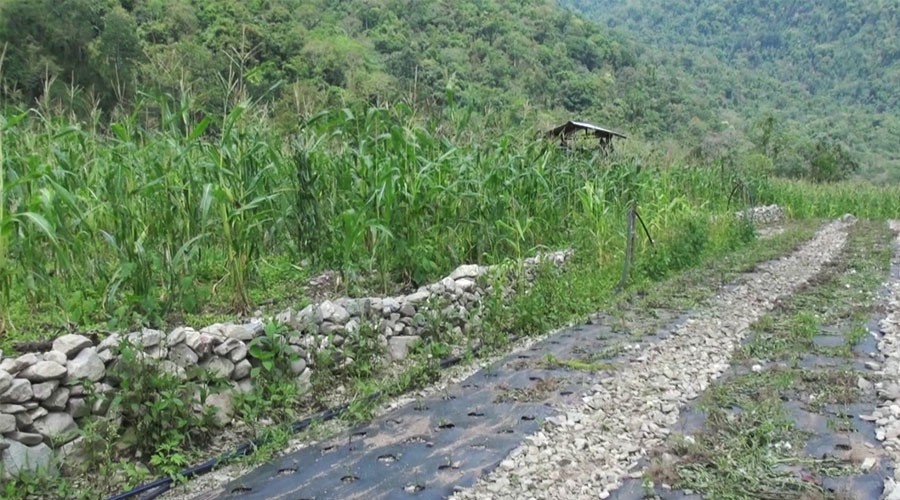 Human-wildlife conflict and labour shortage compelled farmers of Chhoekhorling Gewog to abandon their fields about a decade ago. About a hundred acres of land were left fallow since then. However, considering the potential of expanding small terraces of paddy fields, the district administration started land management a few years ago and today the farmers are making use of the arable land.
In Bafudhar, people of Chhoekhorling, Yarjaywung and Arden chiwogs of Chhoekhorling Gewog used to cultivate paddy in the past. And irrigation water has never been a problem.
Until last year, the area was covered in thick bushes as it was abandoned.
Thanks to the land management programme, the land is turned into productive soil. Today, farmers are growing maize and vegetables.
"Earlier, when the area was covered with bushes, we faced difficulty while weeding. Now with this land management, we can work easily. Some didn't start the cultivation works but we are trying our best to make use of the land," said Kezang Thinley, a farmer.
"The land was sloppy earlier and working on it was difficult. But today after the land management, it is convenient," said Kinzang Dorji, a farmer.
They added that they will also cultivate paddy.
Farmers said they can also use farm machinery cutting down labour usage and cost. Making use of the fields will also help in achieving food self-sufficiency.
The Dzongkhag Administration initiated the land management works with support from CARLEP, Commercial Agriculture and Resilient Livelihoods Enhancement Programme. The 100-acre land belongs to more than 100 households.
Thinley Dorji, Pema Gatshel
Edited by Tshering Zam