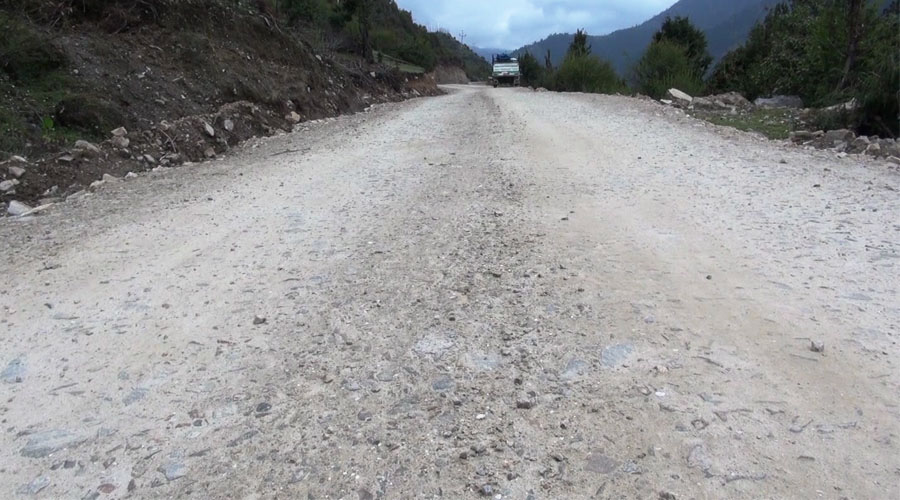 With the rainy season here, people of Merak Gewog in Trashigang are worried that the blacktopping works of the Gewog centre road might get delayed. Except for laying Granular Sub-Base, construction of drains and blacktopping are yet to start. However, the contractors say they will complete the work on time.
The works for the 19-kilometre stretch from Shetimi to Gewog centre started in September 2020 and are scheduled to complete by September this year. And for the 16.4-kilometre road from Shetimi to Khardung junction, the contract was awarded in March last year. It will be complete by 2023.
For now, labourers are laying wet mix macadam, the crushed, graded aggregate and granular material on the road. Although blacktopping works are being carried out as planned, the residents are worried that poor weather conditions might hamper the work progress.
"The road condition has improved with the completion of laying GSB. However, if the blacktopping works are completed at the earliest, it will benefit us. Earlier, it takes around three to four hours to reach Trashigang. Now, it takes two to three hours and with the completion of blacktopping, the travel time is expected to be reduced," said Tshewang Dorji, a resident.
"We are worried as the blacktopping works are yet to begin. With the monsoon approaching, the road will become slippery and risky," said Thukten Lobzang, another resident.
According to the contractors, blacktopping and construction of drains will begin after the monsoon. The blacktopping works will cost about Nu 142 M.
Merak and Sakteng roads will be the last Gewog centre road in Trashigang that will be blacktopped.
Sonam Darjay, Trashigang
Edited by Tshering Zam