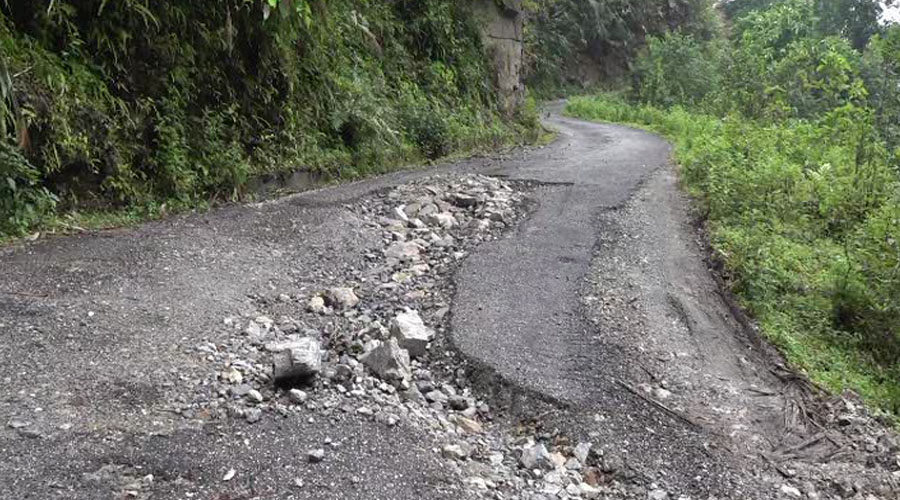 Owing to a limited budget, the 18-kilometre Norgaygang Gewog Center road in Samtse continues to remain in a poor condition. Unable to carry out maintenance works as the road is very lengthy, the gewog tried to hand it over to the department of roads last year. But, the gewog office is yet to get a response from the department.
The narrow winding road of Norgaygang Gewog which is riddled with potholes will put anyone's driving skills and the vehicle to test.
As such, not many light vehicles travel along the road today. And now, with monsoon just at the doorstep, residents are worried that certain stretches of the road will become inaccessible, especially for small vehicles.
"We have been facing a lot of problems, especially with regards to our gewog centre road. Although a few vehicles travel, the road today is in desperate need of maintenance," said Yeshi Dorji, a resident in the gewog.
"Small vehicles will have a tough time crossing some parts of the road as they are not in good condition. Hardly a few stretches of the road are in good shape. It is high time that the maintenance work is carried out," said Sangay Rai, another resident.
Despite carrying out a few minor maintenance works, the gewog administration claimed that it is challenging as the road is quite long.
"The previous gewog administration has tried its best to improve the road condition. Likewise, the authorities have also tried to hand over the road to the DoR but didn't receive any updates on the matter so far. Now, even we are trying to do our best. I have also talked about the road with our Dzongda and we are also planning to raise the issue again in the upcoming DT," said Norgaygang Gup, Shyam Kumar Gurung.
He further added the matter was also discussed with the Works and Human Settlement Minister and the Tashichhoeling constituency's Member of Parliament during their recent visit to the gewog.
"For a time being, recently our Dzongda has ordered the Tashichhoeling Drungkhag to help in carrying out a few minor maintenances along the GC road. The road will be widened and the unnecessary sharp turnings will be cleared and repaired. For now, all the measurement works with the engineers have also been completed," added the Norgaygang Gup.
The roads department, last year, refused to take over the road on the basis that the government handed over all GC roads to the local government in 2019. The office also said that there is nothing much they can do about it unless the works and human settlement ministry intervenes.
The Dzongkhag Tshogdu then decided to write to the MoWHS. As of today, both the gewog and the DoR office have not received any orders from the ministry concerning the matter. Constructed in 2017, the Norgaygang GC road today benefits over 600 households of the gewog.
Passang Dorji, Samtse
Edited by Phub Gyem