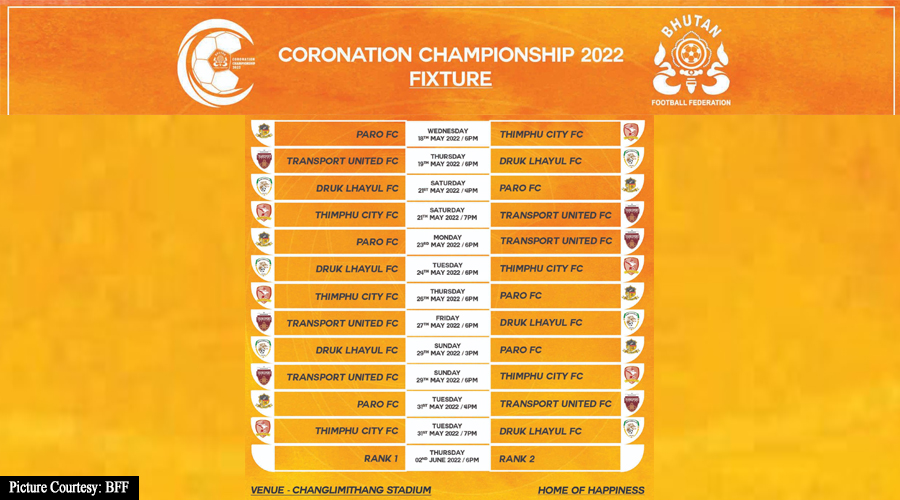 For the first time, the Titans of the Bhutan Premier League are set to go head-on starting tomorrow. The top four clubs will compete in the Coronation Championship to decide the elite of them all. After over two years, spectators will also be allowed at Changlimithang to support the clubs.
Thimphu City FC, Paro FC, Transport United FC, and Druk Lhayul FC will play off in a double-league format. A total of 13 matches will be played until the finals. The BFF said although smaller clubs get to play qualifiers and other small tournaments, big clubs hardly get a chance to play in the tournaments.
Such a championship is also expected to draw more people into the sport. According to the Bhutan Football Federation, the championship is to help young club players get a chance to compete at the highest level and develop the sport.
"The four clubs are equally strong. So, I think the competition will be stiff and the fans will also love it. Watching football live from the stadium is completely different from watching it through social media and television. Young people can come and watch the match and be motivated," said Phuntsho Wangdi, the head of Media and Marketing of the Bhutan Football Federation.
"They will also think of playing football like the club players. Even the parents who come to watch the match will think of encouraging their children to play the sport," he added.
One of the attractive features of the championship will be the Most Valuable Player award. The winner will get to travel to Qatar to witness the World Cup 2022 later this year.
The winning teams of the championship will also receive cash prizes of Nu 200,000 and 100,000 respectively. With fans in the stadium as the 12th man, and four titans colliding, people can expect an absolute blast.
Tshering Dendup