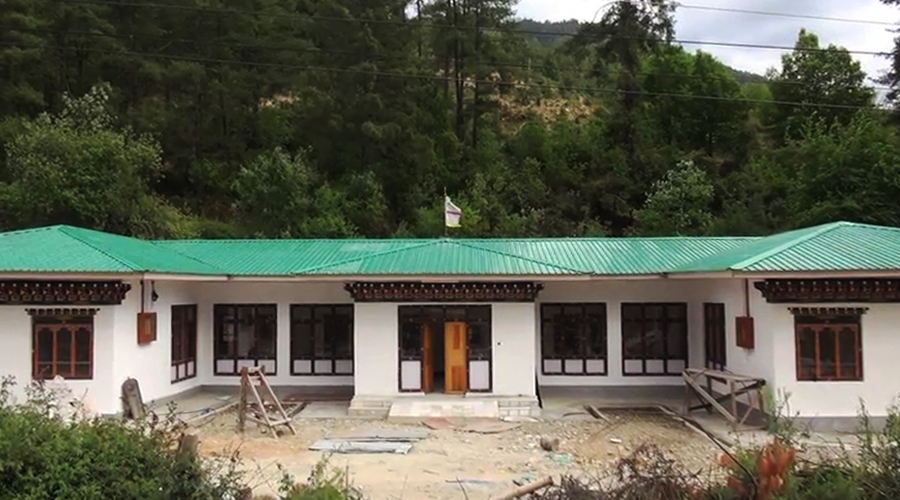 It may not be long before residents of Dotey Gewog in Paro will receive better and prompt healthcare services. This is because the construction of the Primary Health Centre in the gewog is inching closer to completion.
It is being built on almost an acre of state land in Jugar chiwog located a kilometre or two from Dotey Gewog centre.
The construction project, which is now in its 13th month, is 95 per cent complete. It is scheduled for completion this July.
The upcoming health facility is a realisation of aspirations of the people, who wished for such health setups in the gewog for more than a decade now.
Presently, they travel to the Paro Dzongkhag Hospital, which is eight kilometres from their gewog. Though the hospital is not too far from their village, transportation arrangements hinder them from receiving timely medical care.
"Earlier, there were only a handful of vehicles in the gewog as roads were bad.  People often landed up getting delayed medical intervention during emergencies like delivery cases. We cannot get a taxi easily," said one of the residents, Gyembo.
Since the construction site is located in Jugar chiwog, which shares a border with Dopshari Gewog, its residents will also have easier access to healthcare services.
"Paro Dzongkhag Hospital is not far from our village. But hiring a taxi is financially stressful. This will not be an issue when the health centre near our village is completed," shared Dema, from Dopshari Gewog.
The Primary Health Centre will provide all the primary healthcare services and cater to the increasing population for the next 10 years.
The primary healthcare services include outpatient medical treatment, follow-ups after discharge from the health facility, immunisation, and maternal and child services.
"The population in the gewog is ticking upwards every year. Taking note of this, the upcoming health set-up will be equipped to cater to the increasing population for the next decade," said Dotey Gup Chimi Dorji.
The Gup also underlined that the health centre will ensure quality healthcare for the people.
"For simple illness such as headache, we have to go visit the hospital. For that, we have to go early and wait for several hours, which are time-consuming."
The health facility is being constructed with funds of Nu 18 M under the Small Development Projects of the Government of India.
Once complete, three health professionals will run the health centre.
Namgay Wangchuk, Paro
Edited by Pema Lhaden