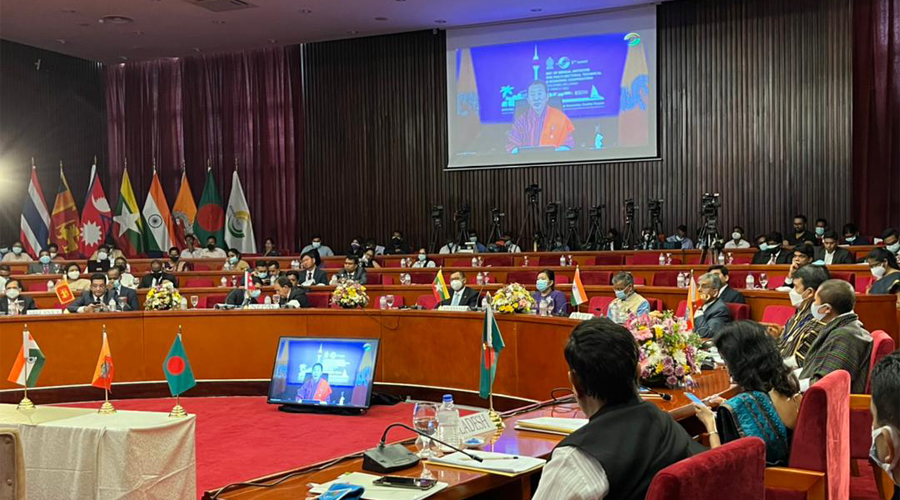 Bhutan and six other BIMSTEC member states adopted a master plan for regional transport connectivity today in Sri Lanka. The BIMSTEC Master Plan for Transport Connectivity will provide a framework, which will help the seven-member nations develop international transport linkages and services. The Bay of Bengal Initiative for Multi-Sectoral Technical and Economic Cooperation (BIMSTEC), is a regional multilateral organization comprising Bangladesh, Bhutan, India, Nepal, Sri Lanka, Myanmar and Thailand.
The Master Plan identifies multimodal connectivity projects between BIMSTEC sub-regions through means such as air, land and sea for greater regional integration. It will seek to combine shipping routes with road transport for the movement of people and cargo.
"With today's adoption, member states can now identify and start prioritizing connectivity projects. And member states now can also have a basis to start a dialogue with potential development partners such as World Bank, Asian Development Bank and any other agencies to take up these projects," said Tenzin Lekphell, the Secretary-General of BIMSTEC.
The Master Plan indicates 267 projects in the member states focusing on construction, expansion, and modernization of transport infrastructure.
"For Bhutan, I would encourage going through the master plan and being familiar with the project in the master plans," the Secretary-General added.
According to him, projects like railway connectivity from Kokhrajhar to Gelephu to Pathsala, Nganglam and Rangiya, and from Banarhat to Samtse to Hasimara to Phuentshogling are also included in the master plans. These can be jointly taken up with India.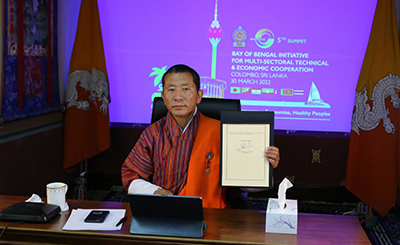 Addressing the summit virtually, Prime Minister Dr Lotay Tshering highlighted the need to exhibit an ideal and efficient trading system through the BIMSTEC platform. The Prime Minister said the intra-regional trade has seen only negligible improvement since its inception.
"This minimal growth could also be attributed to bilateral engagements at national or at a private sector level, and not necessarily through the BIMSTEC platform. Therefore, concrete steps and initiatives, be it big or small, must be taken beyond the formalities, to enhance trade in the region.  It is true that landlocked countries like Bhutan and Nepal have more to benefit from such advancements. But this will also be a success story for BIMSTEC," the Prime Minister said.
Lyonchhen also highlighted digital connectivity, security front and climate change as key priorities post-pandemic.
Meanwhile, the BIMSTEC charter along with three other legal documents was signed during the summit.
Samten Dolkar
Edited by Sonam