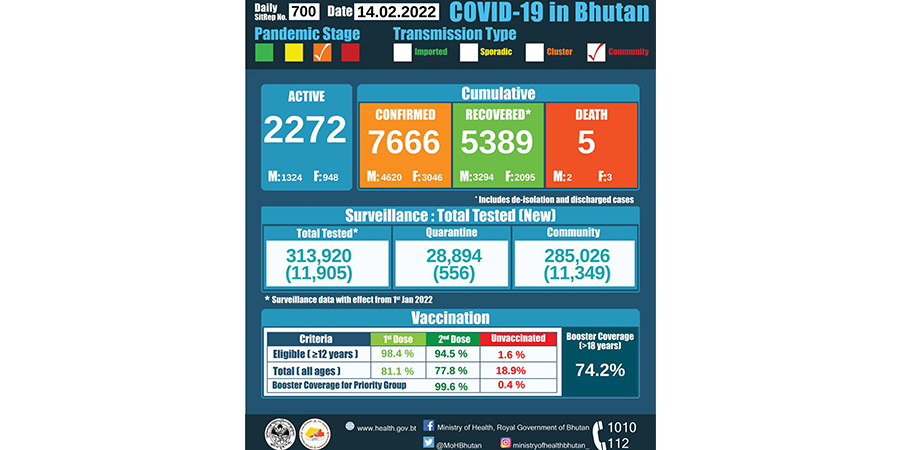 Starting January 24, the country has been seeing more than a hundred cases of COVID-19 every day. With 237 new cases detected in the last 24 hours, the total cases reported in the country now stands at 7,666. The cases are reported from seven districts. Meanwhile, 190 individuals were declared recovered after they tested negative while in isolation. 
Of the total 237 cases, only ten are non-Bhutanese. Chhukha, Samtse, Sarpang, and Wangdue Phodrang districts reported cases from the community as well.
Wangdue Phodrang reported the highest number of cases today with 24 community cases, 38 contacts and six domestic travellers in quarantine. The community cases were detected from Bajo (9), Gangthangkha (1) and Pangsho (14) in Gasetshogom Gewog.
Samdrup Jongkhar reported 57 new cases, 35 cases more than what the district reported yesterday. However, they are all contacts of earlier cases. Meanwhile, Chhukha's daily case count saw a dip by about 60 per cent compared to yesterday. Against its more than a hundred cases yesterday, the district reported only 46 cases today. Twenty cases were from the community and the rest are all contacts of earlier cases. The cases were detected from Phuentshogling and Chongeykha.
In Samtse, there were 27 new cases. However, all the cases are contacts except for one from the community. Sarpang reported 24 new cases today with 11 from the community and 13 contacts. They are all from Gelephu.
Pema Gatshel and Thimphu reported no cases from the community today. While Nganglam in Pema Gatshel reported 10 contact cases, Thimphu saw only five cases.
Tshering Dendup
Edited by Sonam