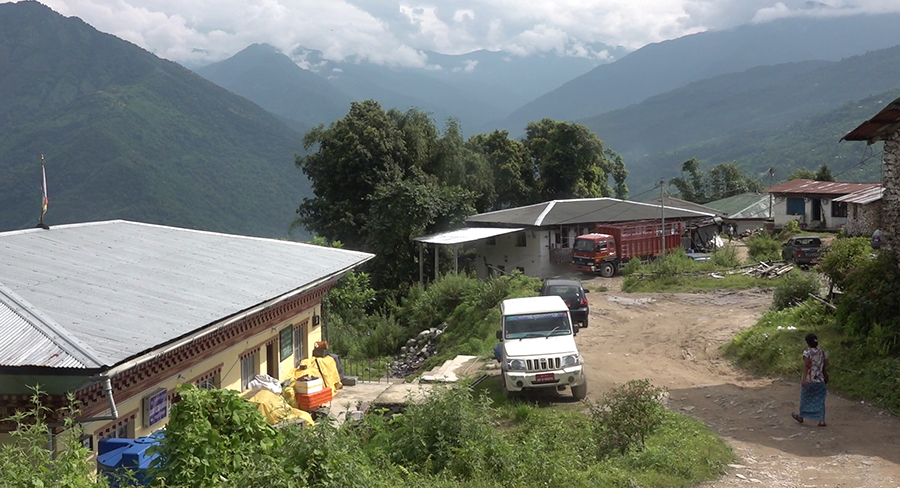 The Dorokha Dungkhag town in Samtse will get a facelift soon as the works to upgrade the old town will begin by next year. Believed to be established some four decades ago, today the small town serves as the main market for the residents of Dophuchen, Denchukha, and Dumtoed Gewogs.  
It takes you back in time. Small structures scattered around the area makes Dorokha Town. There are some 25 shops. But it is nothing close to a town.
Most of its structures are old and people say the town is in desperate need of a new look.
"There are a lot of problems in the town. It is very congested and we face a lot of water issues. Basic facilities like public toilets and proper places to throw our waste are still not there. It is also very dusty during the dry season," said Ran Maya Ghimire, a shopkeeper.
"For a shopkeeper like us, it becomes very difficult when there are no proper roads and parking spaces. Likewise, the town needs to have all the facilities required for a proper town but the location here is a challenge," said Yeshi Wangchuk, a shopkeeper.
Another shopkeeper Tika Maya Bhattarai said, "Outsiders can't believe it is a town. If a town planning comes up, we will be happy."
"We did not see any development in the town so far. If a town planning is there, I hope we will see some development here," said Aita Maya Rai, a shopkeeper.
Their voices have been heard. The Dorokha Dungkhag is going to make much-needed changes.
 "We have developed the Local Area Plan, conducted the survey and also met with the people here to talk about the development of the Dorokha town. We will submit all the reports to the relevant agencies and as soon as it gets approved, we are planning to begin the works like water connectivity, development of roads, and other facilities as well. We are hopeful to start the works by next year," said  Karma Jurmi, the Dorokha Dungpa.
The town planning works will be carried out on some seven acres of land. The dungkhag is waiting to conduct a final consultation meeting with the people. A report will be submitted to the National Land Commission and the Works and Human Settlement Ministry for approval. And the residents are excited that the improvement is going to come after forty long years.
Passang Dorji, Samtse
Edited by Tandin Phuntsho