Flash flood washes away Gasa Tshachu
Aug 26, 2021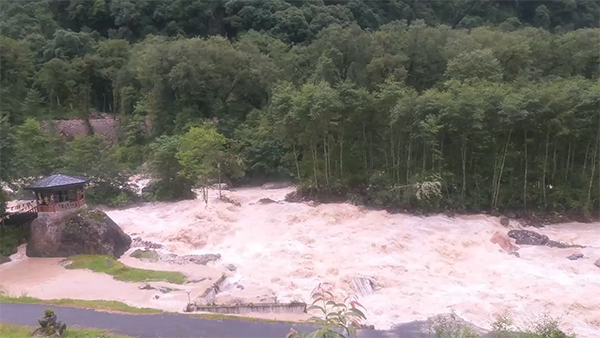 Fed by continuous rain, the swollen Mochhu completely washed away the famous Gasa hot spring today. However, there were no human casualties reported. This is the second time that a flash flood has washed away the hot spring.  
The Mochhu broke its banks and diverted its course towards the hot spring in the wee hours. The flood submerged all seven ponds and washed down four concrete structures in the area.
"Since it is summer, there were not many visitors at the hot spring. Moreover, our security personnel restricted the people from soaking late into the night due to continuous rainfall. As a result, most visitors had left for their rooms by around midnight. Similarly, there was no one in the concrete structures of which one was a shop," said Dorji Gyeltshen, the Senior Gasa Dzongrab.
Following the risk of flash floods in the area, the district administration constructed an almost a kilometre river diversion channel in June.
However, the river was only partially diverted through the channel as officials were examining the geological stability of the new course.
"We could divert only 30 per cent of the river water through the channel with the onset of the monsoon. The part of the river that was not diverted and flows from near the hot spring flooded the area," added the Dzongrab.
Meanwhile, the areas where a public guesthouse colony and a temple are situated have not been affected.
"We hope the source of the hot spring is not damaged. Regarding other structures, we can restore them only after the water level subsides. I think we should first divert the river completely and carry out interventions to maintain its course," said the Dzongrab.
The hot spring was reopened to the public in 2013 after a similar flood damaged it more than decades ago.
Hundreds of people from across the country have been visiting the hot spring believed to cure skin problems, joint pains, and digestive disorders, among others.
Changa Dorji, Punakha
Edited by Sonam Wangdi