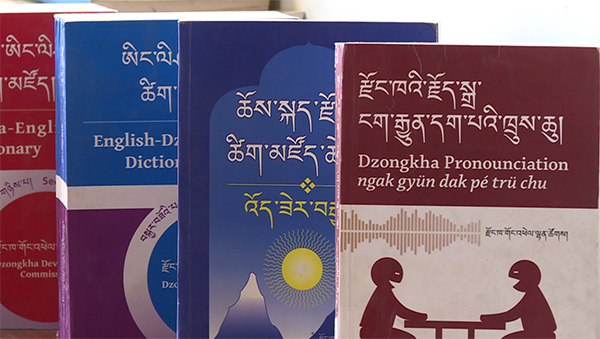 A flip through the DDC's dictionary, one will come across hundreds of Dzongkha terms. What's interesting is there are also words from many local dialects in the country.
Mathang and Khodkin are some Tshangla words the Dzongkha Development Commission approved to be used as Dzongkha. Other words include Jojo, Acho, Jhum, and Dhibu adopted from the western dialects. Their meanings remain the same as well.
The DDC's chief language development officer, Ugyen Dorji, says they must add local dialects to Dzongkha since the national language has a limited vocabulary.
"Whether it is spoken or written, if we want to make our national language easy to use and rich at the same time, borrowing words from our indigenous dialects is crucial."
The National Policy and Strategy of Dzongkha Development Promotion states, "Terminology which does not exist in Dzongkha would firstly be adopted from classical Choe-kye and secondly from other indigenous dialects of Bhutan."
However, some regular Dzongkha users say they are yet to use most words the DDC has coined or adopted.
Gem Dorji, the CEO of GyalcheSarsho, a private Dzongkha newspaper, says, "If we have to use words such as mathang or khodkin, then our readers who do not know Tshangla will not understand them." He adds sharchops will think the words are in their dialect and wonder what their Dzongkha terms are.
Kuensel's Dzongkha editor Nima Wangdi says until recently, he was not aware that the DDC added words such as mathang and khodkin in their dictionary.
"As far as Kuensel is concerned, we haven't used such words so far."
To promote the words, some observers say they must be included in the education curriculum for children to learn.
The education ministry's curriculum and professional development department accepts the words the DDC adopted from local dialects. However, the department says it is inconvenient to use every new word in the curriculum.
Dorji, a Dzongkha &Rigzhung Curriculum Officer from the department, says that the New Normal Curriculum could be one way to promote the words.
"In the curriculum, the lessons are not necessarily based on textbooks. Instead, students can use online resources. So, for most exercises, we give our students the DDC link and inform them that they can find Dzongkha words, spellings, and meanings there."
"While referring to the online links, they will gradually get familiar with the terms," he adds.
For now, the DDC will continue adding new words whenever required. But, to what extent and how soon will they find a place among the regular Dzongkha users or will they rest within the pages of the dictionary just like many others? This remains to be seen.
Karma Wangdi
Edited by Sonam Wangdi