Boxing gaining popularity among youngsters
Aug 1, 2021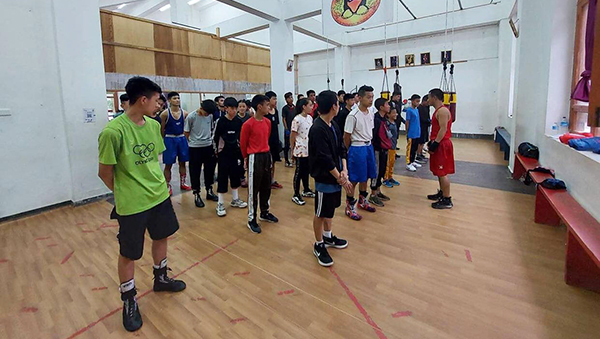 An old sport but a new trend – the interest of youth in boxing is growing in the country. Endorsed by the Bhutan Boxing Federation, the Druk Thimphu Boxing Club introduced a summer training camp on popular demand. More than 70 youth participated in a two-week-long training that ended today. It will now be held annually. 
Sigyel Phub, 37, from Wangdue Phodrang, has been boxing since he was in his teens. He was also in the national boxing team for almost a decade.
And during his boxing career, he represented Bhutan and won a few medals in international events. He founded Druk Thimphu Boxing Club in 2016 to encourage boxers. Currently, he trains boxing enthusiasts.
"I see a lot of potential in our youth. I hope to prepare boxers who will be number one not just in the country but also internationally one day. Starting from 2016 till 2019, I have trained youths who were able to compete in some international tournaments," he added.
The summer training camp for students was well received by the participants. The sheer number of youth who registered for the training can attest to its growing popularity. Some of the trainees were as young as 10 years old.
"I hope to represent my country one day and do better than other countries in terms of boxing," said Tshering Dolkar.
"I didn't want to waste my time loitering and getting into unnecessary troubles. That's why I registered for the training camp. I would like to continue boxing and hopefully get an opportunity to represent my country one day in the international arena," said Jigme Tenzin Thai.
Besides the physical benefits, the training camp also helped discipline the students. According to the president of the club, boxing is an art of defence. It not only protects oneself but also boosts endurance.
"The one reason I joined the training was to learn self-defence. Being a girl, you never know when self-defence can come in handy especially with news on rape cases emerging in the media. And the other reason is self-interest," said Tshering Dolkar.
The hopes and ambitions of the young people may take a while to turn into a reality with the current facility and resources. Nonetheless, things are heading the right way.
And with summer camps like this, the interest and zeal for sport like boxing are only going to grow to prepare them for the future gold medals.
Yeshi Dorji
Edited by Sonam Pem