Thimphu City FC to face Club Eagles of the Maldives in preliminary round one of AFC
Feb 3, 2021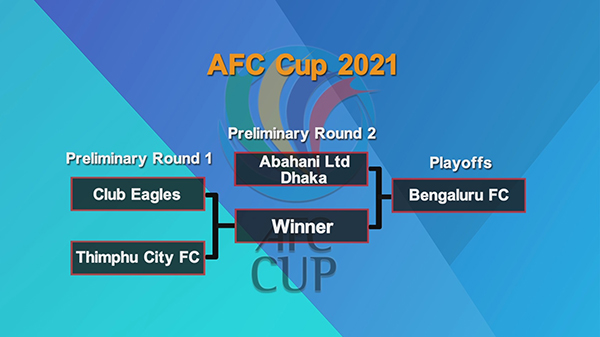 Thimphu City Football Club anticipates making to the playoff rounds of the Asian Football Confederation Cup (AFC) 2021. Being the champions of Bhutan, Thimphu City FC will face Club Eagles of The Maldives in the preliminary round one of the AFC Cup in April this year.
Thimphu City FC was crowned as the champions of Bhutan last year with an impressive run of 13 matches without a defeat in 14 games.
With the official group stage draw of the competition held last week, Thimphu City FC wasted no time as they began their preparation for the upcoming AFC CUP 2021.
This is the second time that Thimphu City FC has qualified for the competition and this time they have high hopes.
"Bhutanese football has taken off and done well. In the past, when I used to go out with the team, we never had a thought of winning. It was always the fear of how many goals we would concede. Now every time we leave Paro airport to go and play outside, we go with the hope that we can create some upsets. So in that respect, we are hoping that we will at least get to the playoff stage," said Hishey Tshering, the President of Thimphu City FC.
If Thimphu City FC wins the preliminary match, they will face Bangladesh's Club Dhaka Abahani in the second round of the qualifiers. And if they beat the club, the team will then face India's Bengaluru FC in the playoffs.
So far, no Bhutanese Football Club has made it into the playoff rounds.
However, given the ongoing pandemic situation, head coach of Thimphu City FC, Ngawang Dhendup has to strongly rely on his Bhutanese players as they don't have any plans to bring in foreign players.
"Since one of our central defenders left for another country, we are without a trusted central defender for now. But we have other options and we will explore them. And this year, we will not be able to bring in foreign players but I have full trust in my boys and believe that they will be able to deliver a good performance," he added.
"We have started our preparation and we have around two months of duration to prepare well for the competition. In this time, we will prepare well and carefully study our opponents as well. This year, we have high hopes as everyone knows how much football has grown in Bhutan in recent times, " said Tenzin Norbu, the central defender.
The club currently has around six senior national players.
The competition this time, however, will be a single leg match in a centralised venue which is not confirmed yet. The venue will be confirmed towards the end of this month.
Passang Dorji