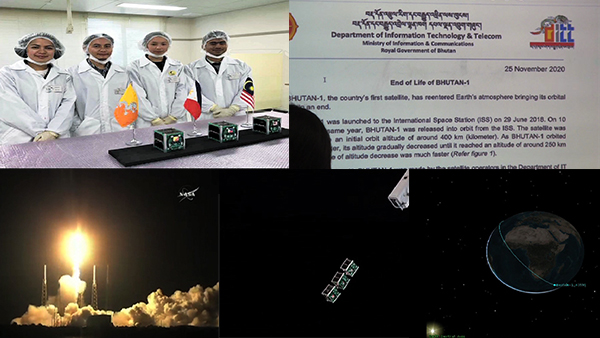 The journey of BHUTAN-1, the country's first satellite's life came to an end. The lifespan of BHUTAN-1 which was expected to last six to nine months exceeded the designed life. The Department of IT and Telecom (DITT) under the Ministry of Information and Communication said that the last data showed that all technical parameters of the satellite were normal and that any end of satellite life is a pre-determined fate.
BHUTAN-1 was launched into orbit aboard the SpaceX CRS-15 mission on 29th June 2018. In the same year in August, the satellite was released into an initial orbit altitude of around 400 km above the earth's surface. As BHUTAN-1 orbited Earth thereafter, its altitude gradually decreased until it reached an altitude of around 250 km from earth's surface where the rate of altitude decrease was much faster.
"Also as expected, once it reached very low altitude, at an altitude of 250 kilometres, it had a sudden drop in the altitude. That means the satellite has entered the earth's atmosphere. And when it entered the earth's atmosphere, because there are more atmospheric particles compared to an altitude of 400 km, so the satellite got burned up in earth's atmosphere," said Cheki Dorji, an Engineer with the DITT at the MoIC.
He said this project is very important for Bhutan as it marked the country's entry into space, science and technology. BHUTAN-1 has been developed by Bhutanese engineers at an Institute in Japan as part of their Master's Degree Project.
"People should know that BHUTAN-1 was more of an educational satellite. Although the satellite carried some sensors like camera, other magnetometers to measure earth's magnetic field, and some other sensors like GPS. Our main intention for BHUTAN-1 was to develop the capacity of our Bhutanese engineers because this is the first satellite. Our Bhutanese have never tried our hands on space, science and technology," he added.
He also added that the experience from BHUTAN-1 will give them a reference to make more improved satellite next time.
The last contact with BHUTAN-1 was made by the satellite operators from the DITT ground station on 16th November 2020. It is predicted that the satellite may have disintegrated over South America.
Samten Dolkar