His Holiness the Je Khenpo calls on all to ensure the wellbeing of children for all times to come
Nov 20, 2020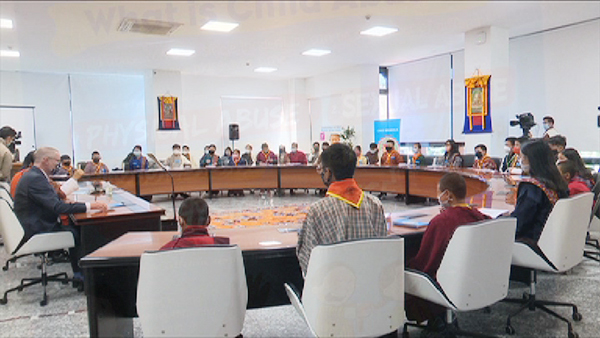 The highest number of cases involving violence against Children in the country this year was reported during the lockdown period. A total of 21 cases were reported in the month of August and September. This was shared by the National Commission for Women and Children (NCWC) during the World Children's Day celebrations today. Coinciding with the day, His Holiness the Je Khenpo issued a decree calling on everyone to ensure the wellbeing of children for all times to come.
According to the NCWC, cases of violence against children in the country are increasing by the year.
"Every year, if we look at the number of cases received by NCWC we could see that there is an increase in the number of cases. We receive the cases in two different aspects; the first one is Children in Difficult Circumstances and the second one is children in Conflict with Law," said Tashi Dorji, an assistant counsellor with the NCWC.
There have been 59 cases under Children in Difficult Circumstances and 34 cases under Children in Conflict with Law in Thimphu this year. According to the office, the most common reason for both the cases is due to the lack of support from the family, domestic violence, alcohol and divorce.
Celebrating the day, the UNICEF, NCWC, Ministry of Education and the Dratshang Lhentshog jointly organised a dialogue on issues affecting children in the country. Foreign Minister Dr Tandi Dorji who attended the event shared that despite the hard work by the government and the many civil society groups, there is still much to be done.
"This day is not only a time to celebrate but also to remind us all, especially the decision and policymakers on the commitments we have made, to abide by them and for children to demand action as many are doing around the world. The UN CRC protects the rights of all children, everywhere, to be free from discrimination, free from violence and neglect, regardless of their ethnic or social background. Or any other status. The Convention and the rights of the Child is the most ratified international human rights accord in history treaties.  Bhutan stands firmly in its efforts to uphold and implement the principles and provisions of this convention," Lyonpo said.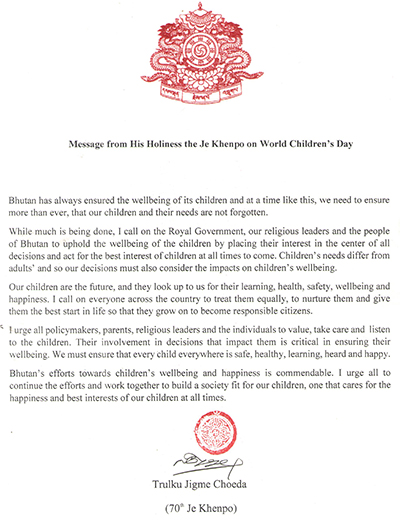 As the day also coincides with the World Day of Prayer and Action for Children, a thousand butter lamps were lit at the kuenray of the Tashichhodzong. The Child Mandala – a guide that ensures the well-being and happiness of children, was also relaunched.
Yeshi Dorji