Crowding at the Duty-Free Limited's tobacco outlet at Chubachhu continues
Sep 16, 2020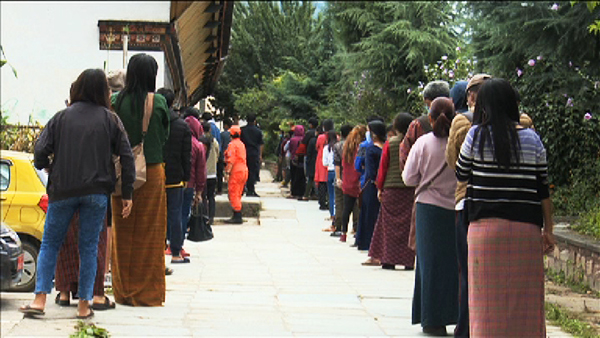 Identifying tobacco outlets in various zones in Thimphu did not help decongest Duty-Free Limited's tobacco outlet at Chubachhu. People continue to crowd the place and long queues of customers outside is a common scene every morning.
Post lockdown, close to a thousand people line up every morning outside the Chubachhu tobacco outlet. Many come and wait from as early as 4 am. So, to manage the crowd in the wake of the Coronavirus pandemic, Bhutan Duty-Free Limited designated outlets in the five zones of Babesa, Changzamtog, Motithang, Olakaha and Taba. However, it did little in restricting customers at the main outlet.
"We distributed tobacco products in the zones in Thimphu last week. And just like here, even at the zone outlets, people are seen crowding and not following the COVID-19 safety protocols. There was no improvement in people's behaviour. I think most of them are tobacco retailers and not really consumers because they try to get the products from their zones as well from here," said Dechen Dema, the Branch Manager at the Bhutan Duty-Free Tobacco Outlet in Chubachhu.
In addition to identifying outlets in the town, the Chubachhu outlet limited the number of tokens issued in a day to 250. And to avoid hoarding, the quantity of tobacco products per person was also reduced.
For now, Bhutan Duty-Free Limited discontinued replenishing stocks at the outlets in the zones as it explores other means to deliver the products without people having to crowd.
"We are looking at online options to place the order and then deliver the products through home delivery services. We want to try and see how it goes. We will also restock the outlets in the zones soon. We request everyone to visit respective outlets and avoid crowding," she added.
Meanwhile, following the ease on movement restrictions, it is learnt that people from nearby districts also visit the tobacco outlets adding to the problem.
Tshering Dendup