Sarpang Layer Cooperative helps in marketing of eggs during the lockdown
Sep 10, 2020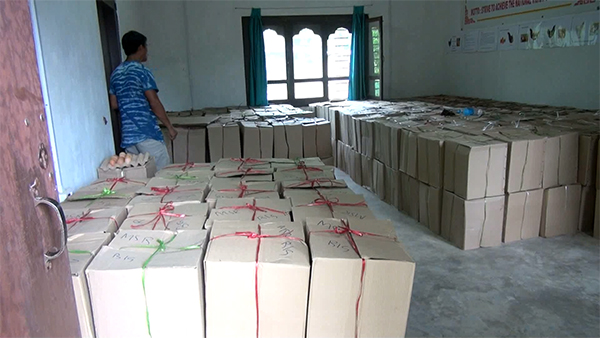 The Sarpang Layer Cooperative came to the rescue of the non-member poultry farmers in the district during the nationwide lockdown. The cooperative helped the farmers in marketing. 
There are around 60 poultry farmers in Sarpang Dzongkhag who are not with Sarpang Layers Cooperative. They started facing difficulties finding customers because their regular clients could not make it to their farm with the restriction on movement due to the nationwide lockdown.
Sarpang Layer Cooperative collects their eggs once in a week. The farmers acknowledged the support in such time by the Dzongkhag and Sarpang Layer Cooperative.
"We had to store the eggs for almost 15 days due to the lockdown. With Support from Dzongkhag Taskforce and Livestock official, Sarpang Layer Cooperative came to collect eggs from both members and non-members as well and our worry for finding a market is solved," said Tashi Rabten, a Poultry Farmer, in Samtenling Gewog.
Nima Lama, the chairman for Sarpang Layer Cooperative, said they collect eggs from non-members of cooperative at nu 2,060 per carton from members at Nu 2,070 per carton. He said the extra Nu 10 from non-members is to cover up transportation charges.
"We are instructed by the Dzongda to collect all the eggs from members and non-members. When there is too much of a stock, it is very difficult to sell. So to find a market, we reduced the price and negotiated with different dzongkhags," he said.
Sarpang Layer Cooperative delivered around 6,000 cartons of eggs to Thimphu, Punakha, and Wangdue dzongkhags since the second day of lockdown. They collect eggs from eight gewogs of Sarpang Dzongkhag.
Karma Wangdi