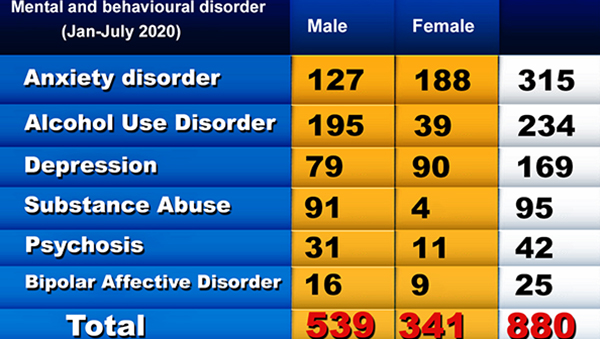 Amid the COVID-19 pandemic, the psychiatric ward at the Jigme Dorji Wangchuck National Referral Hospital (JDWNRH) in Thimphu is seeing an increasing number of people coming to seek mental health services. In the last six months, the hospital saw nearly 900 new cases for anxiety disorder, alcohol use disorder, depression and substance abuse among others.
According to the psychiatric department, the increase in the new cases could be because of the heightened stress levels due to the coronavirus situation.
As per records maintained with the hospital, the three psychiatrists see nearly 40 patients every day, of which more than half are new cases. Dr Damber K. Nirola, the head of the psychiatric department says, the COVID-19 situation is adversely affecting people's mental health triggered by anxiety, joblessness and uncertainty accompanied by the pandemic. "It's very difficult to say but definitely there are certain reasons that could be the real cause. For example, people are not able to earn a living, many people who were paid a small salary are no more working, some of the people who were working in the tourism sector or in the hospitality sector lost their job. They don't have their job anymore, they are trying to look for a job but I don't think there is any. So that way they are having difficulty in paying house rent, they are having difficulty in even meeting their day to day expenses. So because of that perhaps a lot of people come with anxiety and depression. We have seen a lot," he said.
With close to 320 cases in the last seven months, JDWNRH saw the highest number of people seeking services for anxiety disorder followed by alcohol use disorder, depression, substance abuse, psychosis and bipolar disorder.
"The other thing that we saw was again a very sharp rise in alcohol abuse patients. So they were just staying at home and doing nothing but drinking. And then finally when your drink overtakes you, they can't eat and they can't sleep, they have a lot of problems and then they come here to seek help with withdrawal symptoms. So our ward has been virtually full every single day," he said.
According to Dr Damber, with patients not following the appointment system, it has put pressure on the psychiatrists in the hospital. "They just drop in or they are referred by another specialist. So when they come we don't ask them to come tomorrow or the day after. So we try to provide services as soon as possible. Thankfully we have got three counsellors. So at least when it comes to the counselling part, the counsellors are taking care of it but when it comes to prescribing medications, assessing the patients and getting a diagnosis becomes difficult for one or two psychiatrists," he added.
Meanwhile, according to records maintained with the COVID-19 National Mental Health Response Team in the Health Ministry, more than 500 individuals availed phone counselling service since March.
Sonam Pem