Govt. allows private ECCD centres to reopen from 15th July
Jul 11, 2020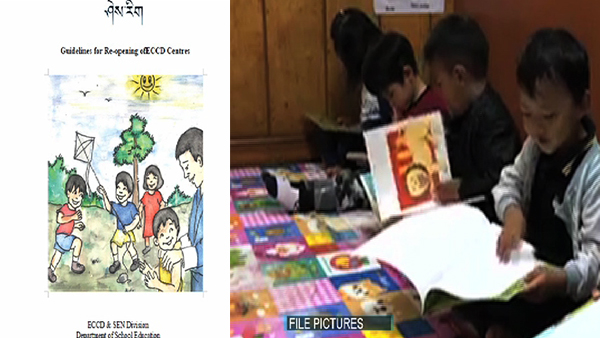 Taking into consideration the concerns shared by parents on the closure of Early Childhood Care and Development (ECCD) centres for the rest of the year, the Prime Minister's Office directed the centres to re-open in a phased manner starting with Private ECCD centres.
Accordingly, the Education Ministry announced all private ECCD centres can re-open from 15th of this month. However, the re-opening of the centres will depend entirely on the agreement between the proprietors and the parents and that safety protocols are put in place as per the education ministry's guidelines.
The re-opening of the centres is expected to facilitate families without caregivers at home, help private ECCD proprietors resume business and boost the local economy, resolve concerns of the families paying the fees for private EECD service and help the employed facilitators return to their work.
As per the guidelines, the re-opening of private ECCD centres should take precautionary health and safety measures to ensure the safety and well-being of children, families and staff of the centres. The District Education Officers and Thromde Education Officers will hereafter carry out a safety assessment for re-opening of the centres and monitoring.
According to the Education Ministry, the re-opening of ECCD centres was critical as learning and development for young children occurs primarily through active play and socialisation, which requires physical presence and interaction.  In the absence of active ECCD centre services, facilitators made an effort to create opportunities for distance learning and home-based interventions. However, the ministry found that remote learning for ECCD children is not as effective and feasible as online learning for older children in schools.
On the other hand, the government ECCD centres will remain closed. But till the centres re-open, the facilitators are asked to visit the children enrolled at least two to three times a week to keep the children engaged meaningfully.
Meanwhile, according to an opinion published on UNICEF Bhutan's website, the Bhutan representative, Dr Will Parks shares schools including ECCD centres should be among the first services to re-open once appropriate safety measures are put in place such as access to handwashing with soap, not only for the sake of children but also for the sake of the economy.
Currently, there are 495 ECCD centres of which, 51 are privately owned. And there are 192 facilitators in private centres. Schools and institutions, along with ECCD centres across the country remained closed from 18th March.
Sonam Pem